Dr. Paula Friedman Leads MDS Call to Action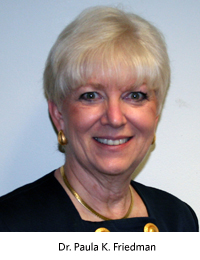 The Massachusetts Dental Society (MDS) launched a Call to Action plan for improving the oral health of Massachusetts residents by 2013 on February 19 at the State House.
The plan was created by the MDS Council on Public Affairs, which was formed in 2007. Boston University Goldman School of Dental Medicine (BUGSDM) Associate Dean for Administration and Director of the Geriatric Fellowship Program Dr. Paula Friedman is Chair of the Council.
"When the Council on Public Affairs was formed its charge was to develop a position paper detailing a vision of how the dental profession aimed to improve the oral health of Massachusetts' residents over the next five years, to create an oral health summit of key stakeholders in the Commonwealth, to map a strategy for achieving those goals, and to reinforce the position of the Massachusetts Dental Society as a recognized leader in oral health care delivery in Massachusetts," said Dr. Friedman. "My role as Chair was to facilitate the two-year strategic planning process undertaken by the private practice and organized dentistry communities that culminated in the launch of the Call to Action."
Dr. Friedman continued, "The process that led to the formation of the Call to Action was inclusive of many communities of interest, including dental public health, public policy makers and administrators, and leaders in dental education. Initial recommendations were vetted through a number of levels of review, resulting in the three priority goals of oral health and overall health, access to care, and prevention as well as 12 objectives to support attainment of the three priority goals."
"Dr. Friedman is an outstanding educator and supporter of community oral health initiatives," said Dean Jeffrey Hutter. "I can think of no better candidate to lead such a massive undertaking and I look forward to seeing the goals of the Call to Action achieved in 2013."
Additional information about the Call to Action can be found here.