BUGSDM Students Utilize Skills in Copper Canyon, Mexico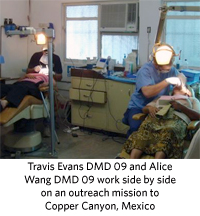 Boston University Goldman School of Dental Medicine (BUGSDM) students Travis Evans DMD 09 and Alice Wang DMD 09 traveled to Copper Canyon, Mexico from November 6 to November 16 with Dr. Frederick Kalinoff, a retired dentist from Arizona and volunteer Dr. Christine Hermanson, a dentist from Minnesota. Dr. Kalinoff leads outreach missions that focus on the Copper Canyon pueblos of Cuiteco and Churo, where several boarding schools for Tarahumara Indians are located. Dr. Kalinoff runs these missions several times a year in cooperation with the Liga Flying Doctors of Mercy.
As part of the outreach effort, volunteers provide dental screenings and sealants and perform extractions and composite and amalgam restorations when needed. Over the last few years Dr. Kalinoff has amassed four portable dental units along with some associated peripheral equipment and supplies, but volunteers are still working in very rural settings, sometimes without electricity or running water.
"This outreach mission was a great opportunity to practice our skills in an emergent care setting," said Wang. "Participating in this trip made me appreciate what I have so much more and also inspired me to incorporate community outreach into my future private practice."
Evans, who speaks fluent Spanish and had previously lived in Chile and traveled throughout Latin America said this trip was much different than his previous travels. "In the past I had mostly experienced other cultures as a tourist, this was the first time where I was able to utilize my skills in the community I was visiting," said Evans. "It made me see how valuable dental professionals' skills are and how much they are needed all over the world."
Two other BUGSDM students Kyle Beffa DMD 09 and Erin Brown DMD 09 also participated in a similar outreach mission in Copper Canyon lead by Dr. Kalinoff from October 2 to October 12 of this year. They, like Evans and Wang, had many positive things to say about the experience.
"I believe that all students should participate in a trip like this," said Brown. "Not only did I gain an abundance of dental experience, but I grew as a person as well. I now realize why volunteer work is so important, and I am likely to continue to go on mission trips as a dental professional."
"When we traveled four hours into Copper Canyon to some of the most remote parts of Mexico the experience grew," said Beffa. "We would set up our supplies in whatever empty room the towns had and begin working. Normally we would start with the school children, but by the end of the day everyone from the town would stop by as well as others from surrounding towns." Beffa continued, "We tried to stay in the town for a couple of days so that word could get out and more people could come. It's hard to tell the kind of impact that you made on a community but there are faces and thank yous that I will never forget."
Associate Director of APEX and Extramural Programs Meg Loadholt is in the process of organizing two additional trips where fourth-year dental students will have the opportunity to accompany Dr. Kalinoff to Copper Canyon and Guatemala.