Wall Street Journal Seeks Opinion of Dr. Salomon Amar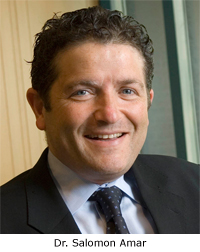 Dr. Salomon Amar, associate dean for research, discusses his research on the link between oral and overall health in the Wall Street Journal article Poor Oral Health Is Linked To Deadly Pancreatic Cancer January 23.
Amar's study, to be completed in 2009, suggests treating gum disease may decrease inflammation throughout the body and improve heart health.
"All kinds of answers are going to come out of this," Amar says in the article. "I think historically the mouth was never considered an important part of the body."