PRESS RELEASES
Boston University to Honor Academy Award Winner Forest Whitaker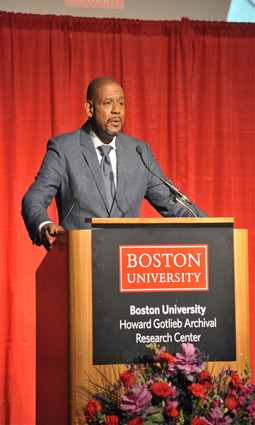 Boston – The Howard Gotlieb Archival Research Center at Boston University will host award winning actor, director, producer and humanitarian Forest Whitaker for their fourth Martin Luther King, Jr. Leadership Lecture, who will also be invested as a Martin Luther King, Jr. Fellow. Mr. Whitaker is well known for winning an Academy Award for his performance as Ugandan dictator Idi Amin in the 2006 film The Last King of Scotland and also for his charity work and social activism. In 2011, Whitaker was inducted as a UNESCO Goodwill Ambassador for Peace and Reconciliation. The Gotlieb Center is the repository of Mr. Whitaker's personal archive and an exhibition of his material will be on display. The event is free and open to the public.
Event Details
Title:Martin Luther King, Jr. Leadership Lecture featuring Actor, Director and Producer Forest Whitaker
Date:Monday, January 21, 2013
Time:4:00 PM
Location: Metcalf Hall (2nd Floor of the George Sherman Union, 775 Commonwealth Avenue, Boston)
Admission: Free and open to the public
Contact: For more information, call 617-353-3696 or email archives@bu.edu
Forest Whitaker made his feature film debut in 1982's seminal teen comedy Times at Ridgemont High Nicolas Cage and Sean Penn. The versatile actor appeared in several acclaimed films throughout the 1980s, including Platoon, Good Morning, Vietnam, and The Color of Money. In 1988 his turn as musician Charlie Parker in Clint Eastwood's dark biopic Bird won him the Best Actor award at the Cannes Film Festival. Whitaker has also won acclaim for his roles in Ghost Dog: The Way of the Samurai, Panic Room, Street Kings, Vantage Point and The Great Debaters. Whitaker soon expanded to producing and directing, having particular success in television with such projects as 1993's gritty urban film Strapped for HBO and 2002's Emmy-winning Door to Door starring William H. Macy. He also directed for the big screen; films include 1995's Waiting to Exhale and 2004's First Daughter.
In 2006, Whitaker made several notable television appearances, including the role of a troubled internal affairs cop on FX's award-winning The Shield and a riveting Emmy nominated turn as a stroke patient on ER. That year, he won critical acclaim for his powerful performance as dictator Idi Amin in the film The Last King of Scotland. The role earned him numerous accolades, including the Best Actor Academy Award.
Whitaker is also known for this extensive charity work and peace activism. He is a supporter and public advocate for Hope North, a boarding school and vocational training center in northern Uganda for escaped child soldiers, orphans, and other young victims of the country's civil war. In 2011, Whitaker was inducted as a UNESCO Goodwill Ambassador for Peace and Reconciliation, and works with UNESCO to support and develop initiatives that empower youths and keep them from entering or remaining in cycles of violence. Whitaker co-founded with Dr. Aldo Civico the International Institute for Peace (IIP) at Rutgers University in Newark, New Jersey.
The mission of the Martin Luther King, Jr. Leadership Lecture is to bring speakers to the Boston University community who serve as leaders in the quest for maintaining social justice and human rights. We seek mentors for our students who exemplify the highest standards of Dr. King's legacy of peace forgiveness and reconciliation. Past Martin Luther King, Jr. Fellows include Christine King Farris, Paul Rusesabagina, and Congressman John Lewis.