2019-2020 K-Grant Writing Participants
---
Charlene Ong, MD, MPHS, is an Assistant Professor of Neurology at Boston University, Visiting Assistant Professor at Harvard Medical School and Massachusetts Institute of Technology, and a clinical Neurointensive Care Physician at Boston Medical Center. She received her undergraduate degree at University of Pennsylvania, her MD at Columbia University and her Master's in Population Health Sciences at Washington University School of Medicine. Her research focuses on the prediction of neurologic deterioration in patients with catastrophic neurologic injury including ischemic and hemorrhagic stroke, traumatic and anoxic brain injury. She has received foundational support from the American Brain Foundation, Philips-MIT and the Peter-Paul Career Development Committee. Her aim is to build a robust ICU data science program and follow a K-track path toward the eventual goal of becoming an independently funded researcher and recognized leader in the field.
---
Anna L. Goldman MD, MPA, MPH is a general internist practicing primary care and a health services researcher. Her research centers on the effects of insurance and payment policies on care access for the poor and underserved. She focuses on the health insurance programs established by the Affordable Care Act, the Medicaid expansion and Marketplace insurance. She also investigates the effects of accountable care organizations (ACOs) in the Medicaid program on health care quality and access. She has a medical degree from Mount Sinai School of Medicine; a Master's Degree in Public Health from the Harvard T.H. Chan School of Public Health; and a Master's Degree in Public Affairs from Brown University. She completed an internal medicine residency at Cambridge Health Alliance.
---
Sarah Gordon is an assistant professor in the department of Health Law, Policy, and Management at the Boston University School of Public Health and an Investigator at the VA Partnered Evidence-Based Policy Resource Center (PEPReC). She received her doctorate in Health Services Research from the Brown University School of Public Health with a focus in health economics. Her research interests are in healthcare access and quality, policies that impact vulnerable populations, and health insurance. Her K01 proposal focuses on the relationship between health insurance and racial/ethnic disparities in maternal health. She is the recipient of an Agency for Healthcare Research and Quality (AHRQ) R36 Dissertation Award, the Brown University Public Health Impact Award, and is a 2019 AcademyHealth/VHA Office of Health Equity Scholar. She holds a Master of Science in Social and Behavioral Sciences from the Harvard T. H. Chan School of Public Health.
---
Dr. Jonathan Jay studies urban health, especially youth exposure to gun violence, as an assistant professor at Boston University School of Public Health. He works at the intersection of data science and community health, focusing on relationships between the built environment and health and safety risks. He leads Shape-Up, a project using analytics to help city residents reduce firearm violence through environmental improvements (winner of the $100k Everytown for Gun Safety Prize and a 2019 Solver with MIT Solve). Dr. Jay previously served as a research fellow for the Firearm-Safety Among Children and Teens (FACTS) Consortium, led by the University of Michigan School of Public Health, and for the Computational Epidemiology Group at Boston Children's Hospital. He also consults on public health and safety with Portland (OR) Fire & Rescue. Before receiving his doctorate in public health (DrPH) from the Harvard T.H. Chan School of Public Health, Dr. Jay trained as a lawyer-ethicist and worked in global health policy. He received a BA with honors from Brown University, a JD cum laude from Georgetown University Law Center and an MA in philosophy from Georgetown University.
---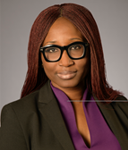 Dr. Ilori received her medical degree at the College of Medicine, University of Lagos in Nigeria. After moving to the US, she completed her residency at Morehouse School of Medicine and nephrology fellowship at Emory University School of Medicine both in Atlanta, Georgia. Dr. Ilori went on to receive her Master of Science in Clinical Research at Emory University.  She was a co-investigator on the All of Us Research Program at the University of Arizona and is currently a co-investigator in the Human Hereditary and Health in Africa Kidney Disease Research Network. She joined Boston University in November 2019.  She is interested in health disparities and nutrition in kidney disease and is investigating gene x environment interactions in Apolipoprotein L1 nephropathy.
---
Heather Hsu, MD MPH is a pediatric hospitalist at Boston Medical Center, Assistant Professor of Pediatrics at the Boston University School of Medicine, and member of BMC's Medicaid Accountable Care Organization research team. Her research interests are at the intersection of health care quality, equity, and spending, with a particular focus on potential unintended consequences of value-based care reforms on health disparities and the financial well-being of the health care safety-net.
---
Simeon Kimmel is an Assistant Professor of Medicine at Boston University School of Medicine and an Attending Physician in the Sections of General Internal Medicine and Infectious Diseases at Boston Medical Center. He trained in Internal Medicine and Primary Care at Brigham and Women's Hospital before completing a joint fellowship in Addiction Medicine and Infectious Diseases at Boston Medical Center. He also earned a Master's Degree in Medical Anthropology from the Harvard Graduate School of Arts and Sciences. His research focuses on improving clinical outcomes for those with and at risk for infectious complications of substance use, with a focus on serious bacterial and fungal infections, including endocarditis and overdose. He has particular interest in integration of addiction care and harm reduction services into general medical and infectious disease care. He will be submitting an application for a career development award focused on understanding disengagement with medications for opioid use disorder following serious injection-drug associated infections in order to design interventions to improve retention in care and subsequent substance use and infectious-related outcomes.
---
Dr. Kirsten Austad, MD attended the University of Wisconsin-Madison, earning degrees in English Literature and Medical Microbiology & Immunology in 2007. She went on to earn her medical degree from Harvard Medical School in 2013 and completed her residency in Family Medicine with a focus in women's health at Boston Medical Center in 2016. During her education she worked in diverse global health settings, including Dominican Republic, Ghana, Chiapas Mexico, and Chile. Dr. Austad began working with Wuqu' Kawoq in 2013 and currently serves as the Director of Women's Health. She also holds an academic appointment as an Associate Professor of Family Medicine at Boston University School of Medicine, and is an Attending Physician at Boston Medical Center (BMC) and Research Fellow at Brigham and Women's Hospital. Her research interests include implementation science, respectful maternity and reproductive health care, and qualitative methods.
---
As a behavioral research scientist, Dr. Abrams' work is conducted with the goal of utilizing culture as an avenue to better understand and reduce health disparities among women of African ancestry via health promotion. As the Director of the Global Community Health Promotion Network, Dr. Abrams conducts domestic and international research in collaboration with community based organizations. Importantly, Dr. Abrams is fiercely dedicated to sexual health promotion among women of African ancestry. She has been involved in a host of culturally relevant research and programmatic efforts related to chronic disease prevention, namely prevention of HIV/AIDS. Dr. Abrams also has expertise in translational community-based and engaged research, prevention science, quantitative and qualitative research, and intervention program development, adaptation, and evaluation. She has managed large-scale grant funded projects and secured university and federal funding to support HIV prevention research and programming with women of African ancestry, including funding from the National Institutes of Mental Health to investigate the role of sexual satisfaction in sexual risk behaviors with the ultimate goal of developing a novel pleasure focused HIV prevention intervention. She has also received funding to investigate women's recommendations for sexual health programming and to execute HIV prevention programming for Black women and girls. Dr. Abrams is also founder of SpiceXperience and co-founder of Research Unlimited.
---
All Success Stories