CLIC News Roundup May 19, 2020

---
News Roundup
May 19, 2020
---
If you have an idea for a project or deliverable to address a gap in translational science or to further the objectives of the CTSA Program then don't wait to apply to start a Working Group! 
Working Groups consider and develop solutions around a specific clinical and translational science issue. Working Groups that are approved by the CTSA Program Steering Committee will be supported by CLIC.
 Projects may result in output such as consensus papers, white papers, publications, and/or plans for workshops, symposiums, meetings or conferences. To submit a proposal, please log on to the CLIC website and complete 
this form
 by May 31.
---
Coronavirus & COVID-19 Update
More than 400 randomized clinical trials have been registered on 
clinicaltrials.gov
. Many aim to answer similar questions but lack any method to combine data. By aggregating evidence across these trials, we can learn about interventions for COVID-19 as quickly and reliably as possible. The 
COVID-19 Collaboration Platform
 (CovidCP) brings unassociated research teams working on the same clinical research questions together to share protocols, data, and evidence.
CovidCP offers support managing collaborations, including expedited and prioritized help from the 
Trial Innovation Network
 and 
SMART IRB
 to form multi-site trials; expert statistical advice for aggregated analyses, and free data storage and anonymization through 
vivli.org
. It is a partnership among over a dozen research institutions, including CTSA hubs.
---
The COVID-19 pandemic raises many difficult questions for clinicians, researchers and informaticians. Which drugs are the most viable candidates for a given patient? How can we efficiently assemble the right patient cohort for a trial? What social determinants impact disease course and outcome? How can we rapidly deploy clinical decision support tools when new knowledge is available every day?
The National COVID Cohort Collaborative (N3C) harnesses the infrastructure and expertise of partners, including CTSA Program hubs, distributed clinical data networks (PCORnet, OHDSI, ACT/i2b2, TriNetX), and others. The mission of the N3C is to improve the efficiency and accessibility of analyses with COVID-19 clinical data, expand the ability to analyze and understand COVID, and demonstrate a novel approach for collaborative pandemic data sharing. The N3C is doing this by building a centralized, EHR-based limited data set of COVID-19 patients and controls in a secure analytic environment where tools and algorithms can be rapidly evaluated, and clinicians and researchers can ask complex clinical questions.
---
News from around the CTSA Program Consortium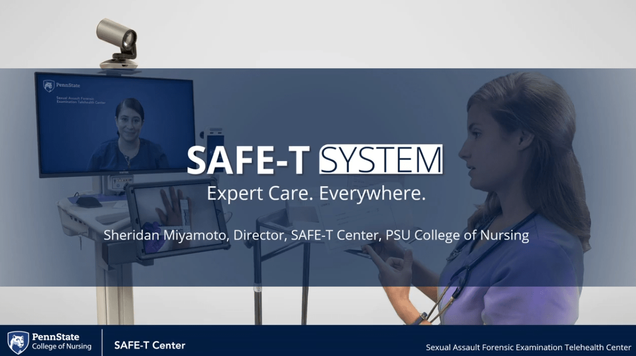 Knocking Down the Barriers to Healthcare for Rural Sexual Assault Victims
Penn State College of Nursing's SAFE-T Center team, led by Assistant Professor and Center Director Sheridan Miyamoto, is working to address barriers to health care for rural sexual-assault victims with their new telehealth solution, the SAFE-T System.
According to the center, there are more than 284,000 victims of sexual assault across America every year. Unfortunately, most U.S. hospitals lack both the adequate equipment and the needed expert sexual assault health care providers to photo-document evidence to aid in the successful prosecution of perpetrators.
The SAFE-T Center, supported in part by the Penn State Clinical and Translational Science Institute, pairs existing commercial products with custom telehealth solutions and extensive added security protections and deploys the technology suite to rural partner hospitals, enabling a local nurse and victim to receive assistance from an off-site sexual assault nurse examiner in real time, as if the expert were present in the room.