Meet our Spring 2022 Adobe Catalyst Program Cohort!
BU's Adobe Catalyst Program (ACP), a Center for Teaching & Learning (CTL) and Digital & Learning Innovation (DL&I) partnership has started its fourth cohort. The ACP provides a virtual learning space for experienced Adobe Creative Cloud (ACC) users (catalysts) to mentor colleagues who wish to implement multi-modality into their teaching and assignments, and use ACC as a tool to make this happen.
During the Spring 2022 semester, eleven faculty mentees—from a range of colleges, departments, and programs—are sharing their pedagogical goals for incorporating digital design into their teaching and student projects. In addition, three catalysts—from QST, BUSM, and CAS World Languages & Literatures—will share their expertise with specific Adobe applications and multi-modal assignments to help their mentees reach these goals. The faculty partnership and collective learning is a strong component of this program, one in which both catalysts and mentees learn together and from one another.
The ACP participants are excited about the potential and opportunities to bring ACC into the classroom.  All the ACC participants are currently mastering creating Adobe Express webpages, and some have put those skills currently into practice in the classroom. Participants are focusing on bringing various forms of video, podcasts, gamification, etc. into the classroom, all while working on designing and redesigning the modality of their course content and assignments to incorporate these digital components.
At the end of the semester, mentees will showcase their projects and reflect on what they have learned throughout the program. Stay tuned for some sample projects and to hear more about the accomplishments of this group through updates on the DL&I and CTL websites.
Meet the Spring 2022 Adobe Catalyst Program Cohort below!
Program Co-coordinators
The coordinator role is a staff-faculty partnership that provides guidance and support for the group, tool training, and general multimodality consultations. 
Throughout the past few years, I have always been amazed by the camaraderie and collaboration of my colleagues in the Adobe Catalyst Program. Our current cohort of faculty are already hard at work with their ideas and projects, and I can't wait to learn with and from them!

Pary Fassihi, CTL Assistant Director
---
I joined the Catalyst program to find a community of faculty across colleges and departments looking to design expansive, interactive, and multimodal pedagogies—and considering questions of access and equity with new digital tools in our classrooms. What I love about the program is the interactions between participants, and the feeling of always learning something new from other faculty participants.
Caterina Scaramelli 
Research Assistant Professor
Anthropology/Earth & Environment
Program Catalysts
Catalysts are faculty who have developed experience with ACC in different areas and who mentor a small group of faculty as they develop projects and learn the ACC tools. Catalysts also work closely with the program coordinators and offer their expertise during and outside program sessions. 
I would like to continue exploring media creation with Adobe programs while being inspired by and collaborating with BU colleagues who share the same interests and passion.

Amber Navarre, Senior Lecturer
World Languages & Literatures, CAS
---
The biggest benefit of faculty-to-faculty learning is the spirit of camaraderie that comes from learning together with colleagues. Mentoring is shared empowerment and I hope to inspire my mentees to integrate Adobe applications into their classes.

Carla Romney
Director of Research
CityLab, BUSM
---
I'm honored to be selected as a mentor for the second year in a row and would very much like to continue to support my mentees. The Catalyst program is a fantastic learning opportunity for everyone.

Gregory Stoller, Senior Lecturer
Questrom School of Business

Program Mentees
ACP mentees are faculty who are participating in large and small group collaborations and learning about multi-modal assignments and ACC tools. This group of faculty is planning on bringing various forms of video, audio, digital games, etc. into their classrooms. Mentees work closely with their mentors and other ACP participants on designing and/or redesigning their traditional assignments into ones that have possible multi-modal elements.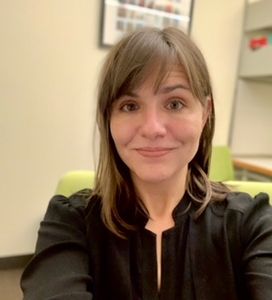 While I am specifically learning Audition to support the podcast assignment in my WR 152 courses, I am also excited to increase digital interaction with texts and teaching materials by incorporating Adobe unilaterally across my classes.

Carroll Beauvais, 

Lecturer
Writing Program, CAS
Questrom School of Business
---
I hope to create some new instructional materials for my classes using Adobe tools, and also to refine and improve the quality of the digital/multimedia assignments in WR152, where my students create websites, graphics, and audio projects.

Amy Bennett-Zendzian, Lecturer
Writing Program, CAS
---

I am excited about learning from the Adobe Catalyst Program how to rethink students' final assignments and projects as well as finding ways I can teach and deliver information more innovatively. But I am mainly motivated by the opportunity to teach this technology to students in my service learning course and empower them to record, gather and explore information from their own experiences and incorporate it into their research.
Seth Blumenthal, Senior Lecturer
Writing Program, CAS
---

I am hoping to learn the basics of Adobe Rush as well as more advanced editing techniques within Adobe Audition to help my students produce interesting video journals and more polished podcasts, respectively.

Jacob Burg, Lecturer
Writing Program, CAS
---
Within this program, I am working to expand my assignments and options that I offer students, especially in connecting visual and audio content with podcasts and digital visual essays.

Caitlin Dalton, Lecturer
Writing Program, CAS
---
I teach WR 152 (Travel Writing), and I want my students to be able to produce a travel podcast on a neighborhood, city, or region of their choice; my goal is to be able to run a workshop on Adobe Audition and to give my students the tools necessary to create a podcast they are proud to share.

Jenai Engelhard-Humphreys, Lecturer
Writing Program, CAS
---
I joined the catalyst program to broaden my Rush and Premiere skills and add some multimedia expression the Coastal Ecosystem class; switching the slideshows students normally present at the end of class to mini video documentaries. I also hope the tools will improve my own design and science communications skills.

Zoe Hughes
Research Assistant Professor
Earth & Environment, CAS
---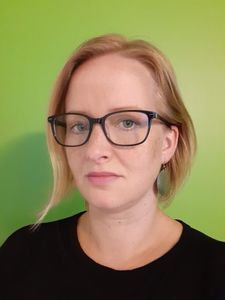 I applied for the Adobe Catalyst Program because I want learn how to integrate some of the Adobe tools into my language classes to create interactive digital assignments and explore new ways of presenting and engaging students in various course topics.

Christiane Kaden 
Program Coordinator, Senior Lecturer of German
World Languages & Literatures, CAS
---

My goal is to transform some of the paper-and-pencil assignments I have given to students into multi-modal digital projects. In the past, I have asked students to design historically-themed posters, virtual museum exhibitions, and games, and they have done so beautifully. Now I want to help them to make these wonderful products but in digital form, using the tools from Adobe Express.

Alexis Peri 
Associate Professor
History, CAS
---
I hope to develop multimodal assignments and thinking for a Seeing and Not Seeing first-year seminar in Kilachand Honors College.

Jeff Rubin
Associate Professor, Research Associate
History, CAS
---
I hope to help my students improve their digital literacy skills through telling their stories and sharing their ideas creatively and innovatively using Adobe Creative tools.
                                                                                                                                                                                                                                                                                                                                                         Hongyun Sun
                                                                                                Senior Lecturer in Chinese
World Languages & Literature, CAS