HITSS Team Attends 2023 United Soccer Coaches Convention
By Matt Roebuck, BU CTE Center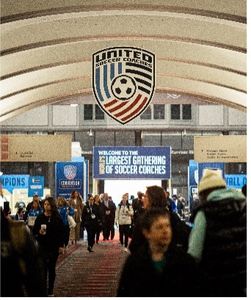 The HITSS team opened the new year with a visit to Philadelphia for the 2023 United Soccer Coaches Convention on Jan. 12-15. The Convention was attended by roughly 10,000 soccer coaches and executives from across all levels of play. The HITSS team was represented in Philadelphia by HITSS Principal Investigator Dr. Robert Stern, Research Assistant Shania Baldwin, and Recruitment Coordinator Matt Roebuck. They were joined there by two HITSS Ambassadors, Hall of Famer Bruce Murray and former pro Gina Lewandowski.
During the convention, the team staffed a booth in the Exhibit Hall where they distributed brain-shaped stress balls with the HITSS logo and flyers with information on how to enroll in HITSS. They also conducted a raffle to win one of three autographed soccer balls from HITSS Ambassadors Alexi Lalas, Gina Lewandowski, and Bruce Murray.
Throughout the week, Dr. Stern made several podcast appearances, recording interviews with various shows, including Girls Soccer Network, Brotherly Game, FootyPod, DE Soccer, Keep the Game Beautiful, and the United Soccer Coaches podcast.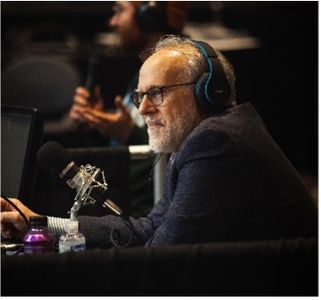 On the last day of the Convention, Dr. Stern led an educational session for soccer coaches, entitled The Impact of Head Impacts: A Discussion on Concussions, Heading & Long-Term Brain Health Risks. Bruce Murray and Gina Lewandowski participated in the session, providing personal stories about head impacts and their thoughts on heading and the future of the game.
"It was an honor to not only attend the United Soccer Coaches Convention but also to meet so many coaches, leaders and executives from within the sport of soccer," said Recruitment Coordinator Matt Roebuck. "We appreciate that we had an opportunity to interact with the hundreds of individuals who wanted to share personal stories about head impacts, learn more about HITSS, and help us spread the word to advance the science and find answers. We also thank Bruce Murray, Gina Lewandowski, and Alexi Lalas for their support throughout the convention."
Researchers from Boston University's CTE Center developed HITSS – a confidential, online survey – to find out the long-term brain health risks from repetitive head impacts in soccer and tackle football. If you or anyone you know are 40 or older & played soccer or tackle football at any level (youth, high school, college, or pro/elite), you are eligible to participate in HITSS.
Visit HITSS.org for more information or to enroll. Your participation will make an impact.