Vikash Sahu, Anshu Goel, Asutosh Patra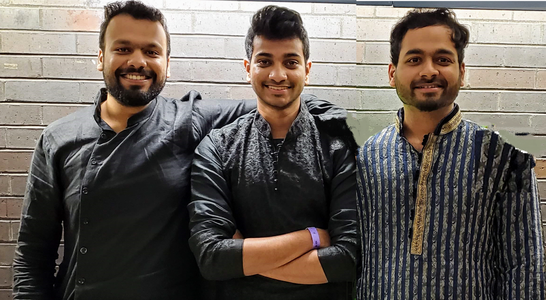 Three 2020 MET CS Graduates Were First Fellow Students in India, Now They Bring Their Expertise to Amazon
Vikash Sahu, Anshu Goel, Asutosh Patra
Software Development Engineers at Amazon
Master of Science in Computer Science (MET'20); Bachelor of Technology in Computer Science and Engineering, Kalinga Institute of Industrial Technology
Tell us about the experience you've shared, first during your bachelor's program in India, then together at MET, and now working as a team for Amazon. Were you each always interested in a computer science career, or did you develop a passion along the way?
Vikash: The journey together from undergrad to MET has been an amazing roller coaster ride. Asutosh and I met during our time at Kalinga Institute of Industrial Technology (KIIT), where we were acquaintances. After graduating from KIIT, I entered the corporate world through the doors of the Intel Corporation. I was on the supply chain analytics team as a software developer, working on machine learning models at scale and designing distributed systems. Anshu and I met at Intel, during a hackathon event. We talked about our work and came to realize that we'd both been undergrads at the same college.
After two years at Intel, I felt compelled to explore more in the world of computers, and saw that a master's degree was in the cards for me. It was then that I got the chance to join Metropolitan College. It's turned out to be the best decision of my life so far!
For me, the beauty of MET was that it gave me the flexibility to be selective in choosing courses, which was exactly the freedom that I had imagined when coming to the United States. I found immense support in the MET community, as well as that of greater BU, and got great exposure to people and opportunities. I was even part of the BU-MIT machine learning society. In our time at MET, I would say we have learned a lot on both the personal and professional level.
I have always had a passion for computer science and am fascinated by how computers have changed daily life. I always wanted to be part of this revolution and to contribute as much as I'm able. The three of us used to discuss our career goals, but I never imagined that we would land in the same place and come so far so fast. It's been a thrill.
Anshu: I first started pursuing a career in computer science because of the wide array of opportunities it presented, but I'm not sure at what point during my undergrad studies I developed a passion for it. One thing led to another, and I joined Intel after college where, as Vikash said, we met during one of the hackathons. A few years after that, I applied to BU MET for my post-graduate studies. It was only after I arrived that I met Asutosh, as well as a few other folks who surprisingly attended the same school as undergrads.
Our journeys have not been completely the same, although they look similar from the outside because we've enjoyed so many happy coincidences. All of us are passionate about different areas of computer science and, much to our benefit, BU MET provided each of us with the flexibility to choose courses according to our interests. We had the opportunity to do a few team projects together, and even worked together at Harvard Medical School under the guidance of Associate Professor of the Practice Dr. Eugene Pinsky—our first real work experience in the US. Adjusting to all these new things—like coming to an entirely new country, encountering a new culture and meeting new people—with some old friends was a cherry on top.
Asutosh: I was always a computer freak, even before my undergraduate studies. I made my first real connection with technology when I observed my brother develop a game of his own. I realized then I wanted a career in the field. I got experience working with real-world projects during my undergraduate program, which made me more passionate about technology and helped me land a job at Cognizant, where I worked for two years. Vikash and I knew each other from school, but had never really worked together. He was the one who recommended I pursue studying at BU MET. During this period I met Anshu, who was already planning to come to MET. We did all discuss our career plans before coming to the US, but never thought we would get this far together! We have been good friends ever since.
Did you all plan to stick together in your career path or was this a happy coincidence?
All: Well, we would say this is a happy coincidence, but it was the passion for computers that made us stick together. Our excitement to learn and develop "hacky" things even led us to becoming roommates in Boston. We lived together for the duration of our time at MET and participated in multiple hackathons together. Then we somehow found our way to all working at Amazon and became roommates once more! As of now, we don't know what will come next, but we are excited about our new venture.
Were there specific developments in your line of work (i.e. evolving best practices, new technological tools, or other catalysts) that prompted you to pursue a graduate education?
Vikash: I was mostly interested in distributed systems, cloud computing, and machine learning. At Intel, I'd used each of those in production systems. Although the work was amazing, I felt the need to truly master these topics and to pursue research in this area. That was my motivation for making a master's degree my next key life goal.
Anshu: I decided on higher studies during my undergraduate program. The idea was to work in the corporate sector for a few years, understand how big industries are solving a few real-world problems using technology, and get hands-on experience. I was lucky to experience all this at a company like Intel, and after two or three years I felt the time was right to go for an advanced degree.
Asutosh: Working at Cognizant made me dig more into cloud technologies, but what I learned on the job was not sufficient to deepen my understanding of the field. A desire to know more pushed me to pursue higher education.
Why did you choose MET for your graduate studies? What set MET apart from other programs you were considering? Was this a decision that you made together?
All: We knew that BU was ranked among the top universities in the United States, and that the diversity of students coming to BU from all around the world would give us a lot of exposure to new perspectives in life. What attracted us to MET was the flexibility to choose our courses, and pick what we wanted to learn based on our interests. The evening class schedule was the icing on the cake. We could see everything coming together, proving we were in the right place.
We were able to take high-quality courses such as Machine Learning (MET CS 767), Big Data Analytics (MET CS 777), Data Science with Python (MET CS 677), and Cloud Computing. In addition to that, we had the opportunity to take courses from BU partner schools. We don't believe you get this flexibility and choice at other universities. It was something that we loved about MET.
Were you able to use faculty as a resource? Is there a particular faculty member who enhanced your experience at MET?
All: Absolutely. The faculty at MET were the best thing that happened to us—more than one professor served as a backbone for our master's studies. Professors Eugene Pinsky and Kia Teymourian, in particular, were crucial. Professor Pinsky first helped us grasp the fundamentals of data science, then later helped us secure research internships at Brigham and Women's Hospital. Professor Teymourian's courses were immensely helpful for our summer internship work, and gave us an important edge over the competition.
Vikash: I would like to especially thank Associate Professor Vijay Kanabar and Assistant Professor and Chair Anatoly Temkin for all the help they provided. I was a research assistant, and under their guidance and mentorship I learned a lot and even designed courses. In addition, I was a teaching assistant. I also remember a valuable on-campus class, Web Analytics and Mining (MET CS 688). I'll always be grateful to have had such amazing professors at MET, who truly became mentors and shaped me into the man I am today.
What specific elements of your MET studies were essential to expanding your career opportunities?
All: Several lessons we learned at MET helped expand our careers. First, the faculty helped guide us to the best stepping stones for building a successful future. As previously mentioned, Professor Pinsky helped us land our research internships at Brigham and Women's Hospital, part of Harvard Medical School. Additionally, coursework and program projects gave us a taste of current trends in the computer technology industry. This helped us gain practical experience that proved very helpful in our interviews. Lastly, the connections that we gained from the Tech Talk series that MET organizes helped us a lot.
What will you be doing in your new positions at Amazon? Will you be working together on the same team or within different departments?
Vikash: I joined the mobile shopping and Amazon Prime foundations team. We are responsible for delivering seamless app experiences, maintaining efficient latency, crash rate, and scaling, and also deploying new versions of the app to millions of customers across the globe. I'm currently working on a machine learning model to predict crashes from a compile-time stack trace and provide recommendations for improvement. Our team's mission is to provide a smooth experience for all users of Amazon shopping apps, Fire tablets, Kindles, Alexa, and lots more.
Anshu: My team is responsible for delivering ads to Fire tablets and Kindle devices that can be viewed on the "wake" screen, when customers first power on their devices. Our mission is to ensure that the right ads are delivered to the right users, and make sure we provide a positive customer experience for both tablet users and advertisers.
Asutosh: My team is responsible for providing storage and computing capacity to AWS [Amazon Web Services] customers through supply chain management. The tenet of our team is to fulfill demands within a short timeframe and maintain cost efficiency. I am primarily responsible for managing one of the backend services of the application.
Did earning your degree lead to a different career focus, or broaden the scope of opportunity within your existing line of work?
Vikash: The MS in Computer Science expanded my horizon in terms of professional work. After graduating, I was ready to go into specialized areas like cloud computing, machine learning, distributed systems, and web development. My MET degree was immensely helpful in landing a position in the summer of 2019 as a data science intern at Redhat. At MET, I obtained a lot of subject matter expertise, and I've never looked back.
Anshu: Earning my degree from BU MET was not only an academic pursuit. Technology keeps on changing, and parts of what I learned during my master's program may become outdated in the coming years. But much of what I learned at BU, life skills like perseverance and how to look at a problem from different perspectives, will last a lifetime.
Asutosh: My career focus was always learning and implementing new technologies. That did not change at MET, but my scope broadened to include different areas of computer science. One of my second-semester classes, Cloud Computing, helped me get my internship at Amazon, which led to me accepting their offer to return on staff.
In your opinion, has there been a positive return on your investment in terms of the cost of the BU degree?
All: Yes, absolutely. The ROI on our MET master's degree is beyond words. Things have been great since we came here. Nothing compares to the rich experience and quality time that we spent with our professors, friends, faculty, and all the members of the MET community.
How were you able to adapt to some of the challenges of balancing work, home-life, and school? Did you benefit from MET's flexible class delivery options?
Vikash: I benefited a lot from MET's flexible schedule—I hadn't imagined going to school would ease my life! The evening schedule helped me a lot, perfectly complementing my part-time job. Since my first semester, I worked part-time as a graduate research assistant (GRA) under the guidance of Professor Temkin and Professor Kanabar, and I was quite able to balance life as a full-time student. During my time as a GRA, I mentored students on campus and helped them with their subjects—which helped me gain valuable connections within the BU community. It also helped reduce my living expenses.
Asutosh: MET's flexible schedule did benefit me. It allowed me to organize my work in a meaningful way, based on when projects, assignments, and other work  was due. Recurring responsibilities like homework and studying became easier to schedule ahead of time. Prioritizing assignments allowed me to focus first on what was most important, and then knock out smaller assignments afterward. Working at dining services for three semesters also helped cover my living expenses. It was quite challenging at first, but as time went on things fell into place.
What is one piece of advice you would give to someone who is considering applying to one of MET's Computer Science & IT programs?
All: MET provides a lot of flexibility in letting you choose your own courses, and customize your degree to suit your interests and needs. If you are interested in any concentration, I recommend you look into the subjects that inspire you and plan accordingly. In addition, if you are interested in research, get in touch with the professors. They are very helpful, and I know they would be glad to have you contribute to their research.
Is there anything else you would like to add?
All: We suggest to all future BU Terriers: Arrive at MET with all the energy you can muster! You will encounter a lot of opportunities to express yourself and grow individually, so we advise you to take advantage of all resources available on campus. Have fun and learn. Good things await.
And finally, if you are interested in entrepreneurship, the BUild Lab provides a wonderful platform for you to pitch your ideas. If they turn out great, you could receive funding and make all your dreams come true!