Taking a Look Back at MLK Day
"Be prepared to hear voices," Katherine Kennedy, Director of the Howard Thurman Center, said to kick off the celebration of Dr. Rev. Martin Luther King Jr. this past Monday. And we certainly did hear voices throughout the 2 hour celebration. Angelica Silva (CAS '16) read a letter signed by Martin Luther King, Jr. She used her voice to share MLK's message of "justice through nonviolence."
Adding a musical interlude, Inner Strength Gospel Choir sang its rendition of Biller Wither's famous "Lean on Me." Juan Felipe Herrera, the US poet laureate keynote, even joined in to incorporate his poetry into the song. The poem's words reflected on the nine victims in the Charleston , NC shooting.
The audience held a moment of silence for those killed unjustly: "in places that were meant to be safe." James Lawson shared his experience coming to America from Nigeria. He said when he stepped foot in this country, he suddenly realized that he was a minority.
President Brown introduced the keynote, Herrera, to share his story and poems. Herrera had a spirited and kind manner when delivering his keynote, and expressed his passion for singing. He explained his journey of coming to the US school system as a Spanish speaker. His teacher, one day, invited him to the front of the class to sing. "Muy beautiful voice" is what she told him.
He explained his college experience at UCLA, which included the time he stirred controversy by drawing a black baby on a cross. "Black men are being crucified in this country," he said. The school had a poor reaction to this action, but Herrera stood his ground. Throughout these stories of struggle, Herrera led us in poetic chants. An excerpt from one expresses the power of voices and peace:
   "We don't want beautiful walls.
We want beautiful voices.
  We don't want beautiful guns
We want beautiful peace"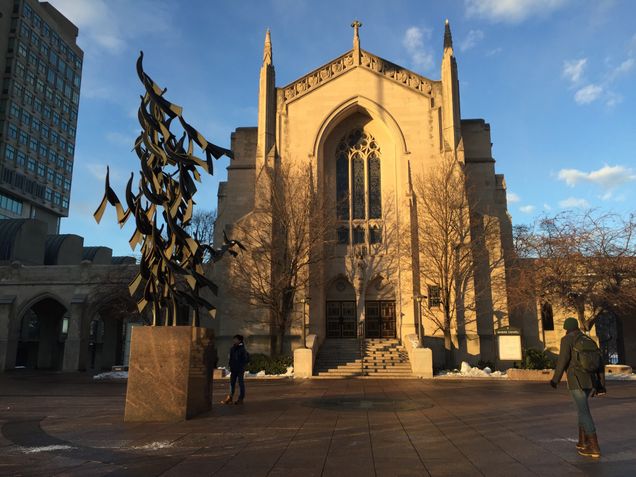 Marsh Plaza on Martin Luther King, Jr. Day featuring the Free At Last statue.
Although Martin Luther King, Jr. Day comes before the official start of Black History Month, its celebrations and commemorations set the mindset our community must always have. Herrera taught us to understand the struggles, be always accepting and listen to all the beautiful voices in this world from people of all backgrounds.