Education and Service and Reflection…Oh My!
We've all had a long and relaxing winter break. Reuniting with friends, spending time with family, eating all the holiday leftovers. Now it's back to second semester. Whether you had a wonderful or not so wonderful first semester, the Community Service Center can guarantee some ways to make this spring semester the best one yet!
First thing's first: turn your spring break into an invaluable experience by indulging in your love for volunteering through an Alternative Service Break trip! Registration is open, and there are still spots left on some trips. You'll have the chance to explore and serve a new community from Boston to California. Make your next break count!
Integrate service into your weekly routine by signing up for one of our academic year service programs. No matter your interest, there's a program that aligns with it. Love to express your artistic side? Try Student Studio to bring the arts to Boston-area youth! Have a passion for social justice? Join the Empowerment League to help ensure human rights to our Boston community. Want to connect with your environment? Help Branch Out in various environmental service, clean-ups and sustainability projects. Make your 90s hits playlists, and drive a van with fellow volunteers to deliver donated food to our partners on Student Food Rescue! Music, science, tutoring, food, elderly, differently-abled community members, public health- any interest can help our mission of serving the Greater Boston Community.
Start preparing for FYSOP 27 and Global Days of Service 2016! The GDS committee is working hard on getting sites, food, and promotions for our biggest annual day of service. Studying abroad? You can still be part of this global initiative. Just email bugds16@bu.edu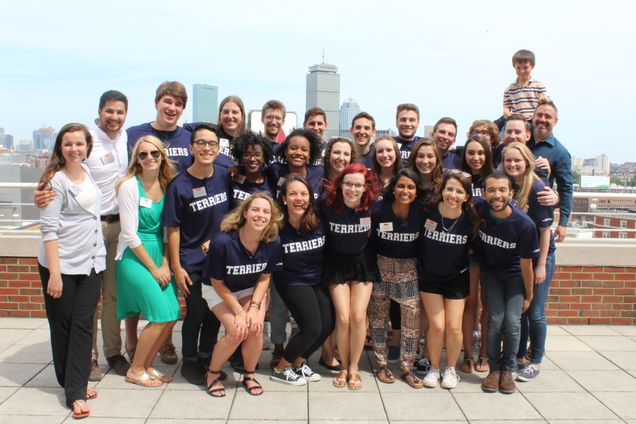 FYSOP 27 coordinator applications are due January 26th, so get busy! This will provide you with invaluable leadership skills and allow you to explore the Boston area while welcoming new terriers. Keep an eye out for FYSOP27 staff applications in the near future!
Spring semester is the time to try something new and make your time at BU worthwhile. Once you have volunteering in your daily routine, it'll be easy to become more involved. Questions? You can always email us at bucsc@bu.edu OR just pop up to the fourth floor of the GSU! Talk to some Program Managers, learn about upcoming opportunities, or use our space for a new homework environment. There's plenty of thinking room.
See you on the fourth floor!