Program Spotlight: Joining Hands
There are a motley of opportunities available at the Community Service Center; however, one of the opportunities that will be highlighted today is Joining Hands, a volunteer program at the Community Service Center. Joining Hands is focused on serving as a link between students and elders with varying abilities in a variety of settings. By creating friendships with people of varying ages and abilities, volunteers receive the opportunity to close the disparity between their differences and gain a unique understanding about the issues that surround elders.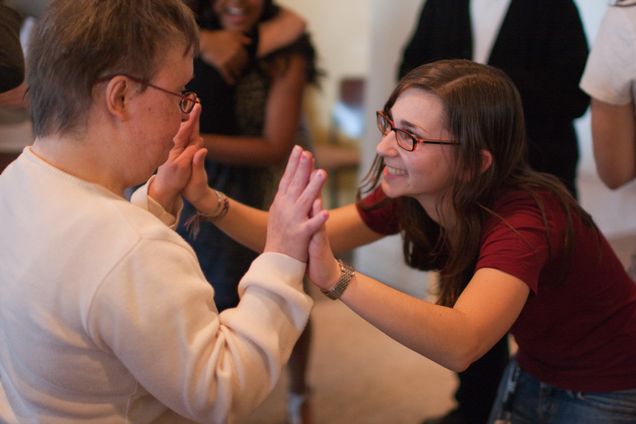 Program Manager, Jon Lerch, a junior majoring in Biology with a specialization in Cellular Biology, Molecular Biology and Genetics and minoring in Anthropology says that "One of the unique opportunities that Joining Hands offers is our direct service. At each of our community partners, we are interacting with amazing people, with some incredible stories to share. They are always so excited when we arrive, and look forward to it each week. I love walking into a community partner, like Little Sisters of the Poor, and being greeted by the residents by name. It is just a small touch, but it is great to know that they remember you from last week, or weeks ago, and you can pick up your conversation from where you left off last time. I think this is one of the things that makes Joining Hands so unique."
Moreover, he says his favorite part about the program is the service. "Each Tuesday, I get a little break in my week by going to Newton Athletes Unlimited to walk the track with the participating athletes. It is always so great to escape campus for an hour, and just chat with some really great people as we walk."
Volunteers are able to volunteer at several community partners including: Newton Athletes Unlimited, Compass on the Bay, Strongwater Farms and Little Sisters of the Poor. Newton Athletes Unlimited is an organization that helps those living with special needs to get active and compete in sports. Compass on the Bay is a senior living center for elders suffering from memory loss and give volunteers the opportunity to make their own activities for the elders they work with. Strongwater Farms is a therapeutic horse farm that provides equine assisted activities and therapies to New England residence in need of emotional, physical and behavioral healing. Each of the community partners provides students with the opportunity to learn something unique about their community and work with a variety of new people!
There are many opportunities for students to become volunteers with Joining Hands! For more information, be sure to check out the Facebook page and website for Joining Hands.