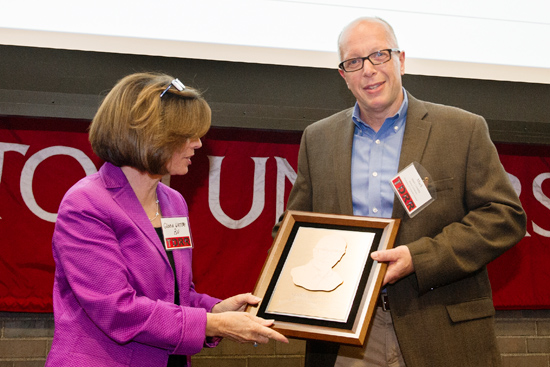 The Office of Technology Development honored Boston University Computer Science Professor Mark Crovella with Boston University's 2014 Innovator of the Year award. The annual award recognizes a BU faculty member whose cutting-edge research and ideas lead to the formation of companies that benefit society at large.
"Professor Crovella is an entrepreneurial scientist, whose inventions have been licensed to two start-up companies," said BU Vice President and Associate Provost for Research Gloria Waters. "His accomplishments in the past year include ten peer-reviewed papers published, five patent filings and $30.0 million invested in BU-spinoff Guavus."
The Boston University Innovator of the Year award highlights translational research at BU by recognizing an entrepreneurial faculty member and the potential for commercialization and/or wider adoption of their inventions. It also encourages faculty to become entrepreneurial while promoting role models who can inspire graduate students to pursue entrepreneurial careers. Past winners are Mark Grinstaff of Biomedical Engineering, Avi Spira of School of Medicine, Jim Collins of Engineering and Ted Moustakas of Engineering.
Congratulations to Mark!
2014 Innovator of the Year Award