Students Sponsored by Boston University Explore Career Prospects and Connect with Women in Computing at the Annual Grace Hopper Celebration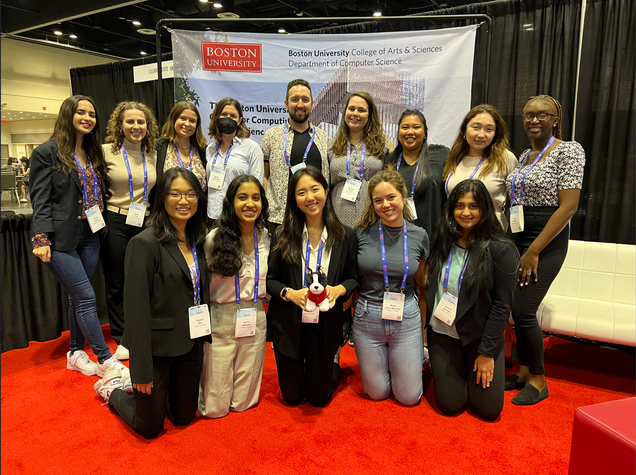 From September 20th to September 23rd, 2022, fourteen students were sponsored by Boston University to attend the world's largest conference for women in computing, the annual Grace Hopper Celebration, in Orlando, FL. As an initiative of The Department of Computer Science to integrate Diversity, Equity, and Inclusion career development opportunities, the conference welcomed all gender identities to offer students an opportunity to meet and learn from women in the industry while exploring future career prospects. 
"I genuinely do not know where to start," said one of the attendees, Sanjna Agrawal(CAS '23), "The GHC conference was everything I could have imagined and more. It was not only empowering but allowed me to see the endless possibilities that arise when women in technology come together."
The three day conference featured many opportunities including an exposition hall and 1 on 1 meetings, "level up labs" and career conversations, networking receptions, as well as presentations and panels. "The number of opportunities, sessions you could attend, and connections you could make was enormous," said Aliya Tazhibayeva(CAS '23). 
A fellow attendee, Junia Janvier(CAS '23), commented on her experience attending one of the 2022 Grace Hopper's speeches led by Ruha Benjamin. "She discussed the implications of technology, as we continue to perpetuate our own biases without considering inclusivity. This talk explored the far future such as robot servants or the present with predictive policing. I left the speech much more interested in her work, and it helped to inspire me for future lesson plans and curriculum for DS291: Exploring DEI in Tech." 
The event was also an incredible opportunity for networking and expanding career opportunities. "Attending the GHC conference was a dream come true for me," said Alyssa Goins(CAS '23). At the conference, Goins was able to meet with various employees of her target company and attend an office party which eventually led to a tour of their Boston office and a meaningful connection with other professionals.
"I had the pleasure of meeting and having 1:1 chats with many incredible women in technology from various companies. Learning about their experiences and journeys was really inspiring." said Sahana Subramanya Kowshik(GRS '23), "Each person I met had something unique to offer, and I returned with a bag full of knowledge and goodies (of course!)."
"It was an eye-opening experience to have the opportunity to directly walk up to employees and recruiters to talk about their open roles – unlike a cold email or a click on their company website, these conversations were so personalized," said Sharon Zou(CAS '24). Zou later added, "The environment that GHC created for those three days was one where I felt seen, welcomed, and empowered by everyone around me."
From fellow Boston University students and students at other schools to speakers and employers, the Grace Hopper Celebration gave space for individuals in the computing field to come together and inspire each other. "It was a spectacular experience to say the least and I felt extremely empowered and visible in the tech industry," said Divya Appapogu(GRS '23).
"Attending Grace Hopper was truly a life changing experience. It opened many doors for me, forged new friendships, and made memories to last my life," said Ruby Price(CAS '23). Another student, Rania Hakimi(CAS '23), added "[It] was one of the best experiences of my undergraduate years. It felt so motivating and inspiring."