BU CS in the Time of COVID-19
by Kayla Chapman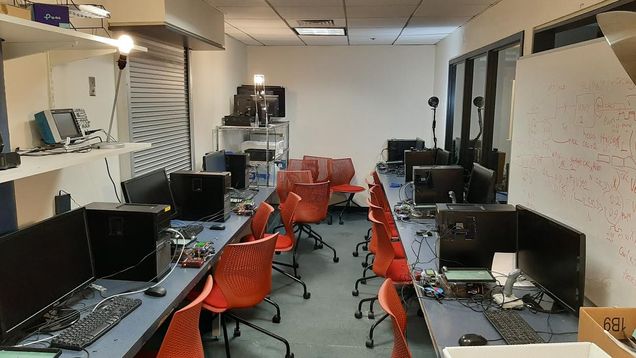 Since Tuesday, March 17th, life has been very different for the BU CS community. On that day, Boston University President Robert Brown announced that, due to the COVID-19 pandemic, Boston University would cease in-person instruction and the remainder of the spring semester would be taught entirely online. This change, while necessary for physical distancing, sparked anxiety among students, faculty, and staff alike. With months of virtual lectures, labs, and meetings on the horizon, the Department of Computer Science set its sights on creating a productive online learning environment for students. 
Although many were aware of the growing threat of the novel coronavirus to life on campus, no one could have imagined the speed at which life at BU would change. Suddenly, the streets of Commonwealth Avenue emptied, students returned home, and professors had less than a week to adjust their curriculum to an online format. A major liaison between students and faculty, the Computer Science administrative staff got to work quickly. "Moving everything to a remote environment essentially overnight is a huge challenge," said Department Administrator Chris DeVits. "Our faculty and staff are corresponding almost daily as a group, sharing their experiences and best practices, letting each other know what worked really well, and what didn't go as expected. The collaboration among our faculty and staff in order to provide the best experience for our students has been really awesome to see." 
On an average day, the Department of Computer Science office on Cummington Mall is buzzing with student inquiries, faculty drop-ins, coffee chats, and the occasional K-9 visitor. Now, interactions are limited to emails and Zoom calls, causing many staff members to realize the value of being on campus. "The most common problem I'm facing with my students is missing the face-to-face interactions, whether in my office or a quick passing in the hallway," said Ph.D. Program Administrator Kori MacDonald.
Although department mailboxes are seeing more emails than usual, staff members have been adamant about communicating with students and faculty whenever issues come up. "If you are facing an issue or a barrier, please reach out to any of us," said Undergraduate Program Administrator Jacob Harrington. "We're working hard to meet you where you're at right now, and the more I hear from students the better I can be at responding." 
Despite facing obstacles, the entire department has displayed cohesion and determination to keep students well-informed and faculty equipped with tools to keep their classes running. "I was surprised by how quickly everyone adapted to the new normal," said Senior Program Administrator Christian Cole. "Perhaps it is because of the nature of computer science, but I think it was a true testament to the strength of community our department has." 
While the CS staff focused on logistics, many faculty members and students experienced their first online classes. Students transitioned from darting across campus for their various lectures, discussions, and labs, to completing computer science courses at the kitchen table. Given the unprecedented circumstances, students did not know what to expect from their professors and had to rely on them to steer the ship into the unknown. "My professors have been great during this whole experience," said undergraduate Melissa Lin (CAS'22). "I appreciate how much effort they have been making to best fit the needs of the students in class, whether it is recording lectures, creating several office hours to accommodate different time zones, [or] actively seeking student input on how they should move forward in the class." 
Beyond adjusting to the non-classroom life, many students found themselves with a confusing calendar, unsure of how to tend to their social lives and implement extracurricular activities. Masters student Megan Fantes (GRS'20) has filled her time with scheduled FaceTime sessions with friends, virtual trivia nights, and cooking nights with her roommates. Still, Fantes faces a problem shared by many: the job search. "I was worried about finding a job before a global pandemic, so I am still worried now," said Fantes."I am trying to channel my nerves and the fact that I have time at home into applying online and virtually networking over LinkedIn."
Like Fantes, Ph.D. student Andrea Burns found that building routines have eased her transition into online learning. "I am mostly re-evaluating the expectations I have for myself and trying to practice compassion," said Burns. "I also have tried to form habits when I listen to lectures that help me focus, like drinking tea and watching lectures in a common room instead of my bedroom."
CS faculty members have been impressed by their students' resilience and dedication to their coursework in these challenging circumstances. "I firmly believe that for a good part it is thanks to my exceptional students that I was able to keep [my] course on track and perform a successful transition into online learning," said Assistant Professor Renato Mancuso. 
The course Mancuso is referring to is Embedded Systems Development (colloquially known as CS454/654), a "hands-on practical experience with software experience with software design, analysis, and implementation on an actual cyber-physical system," explained Mancuso. Students in CS454/654 rely heavily on their materials, including an analog joystick that would be "impossible" to use as-is in a remote setting.
When faced with the challenge of making such a hands-on course remote, Mancuso said, "I decided not to compromise. The easy decision to make would have been to cancel all the hands-on labs and convert the class format to have no practical component. But I could not bring myself to do that." Instead, Mancuso reimagined what the course could be, making adjustments that did not sacrifice the quality of the lesson. By creating a virtual joystick program that students could run through their home computers, Mancuso gave them the classroom experience they signed up for. 
Mancuso and his students' ability to overcome obstacles of remote learning is a great example of the Department of Computer Science's strength and unwillingness to compromise the value of a BU education. Department Chair Abraham Matta has been continually impressed by the CS community. "I have been amazed by how our faculty and students have fully embraced the challenges of transitioning to remote teaching and learning," said Matta. "I am honored to be a part of this BU CS family and I am confident we will be back on campus better and stronger."