Visiting Researchers
Gail Cafferata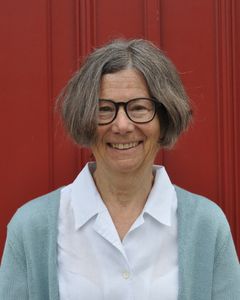 The Rev. Dr. Gail Cafferata, Ph.D. came to the Center for Practical Theology as Visiting Researcher in 2012. Her Louisville Institute-funded study, "The Last Pastor: Adaptive Challenges and Well-Being among Protestant Clergy Closing their Churches," grew out of her experiences as both an Episcopal priest who has closed a church, and a medical sociologist with an interest in health and well-being. The first publication of this study "Respect, Challenges, and Stress among Protestant Pastors Closing a Church: Structural and Identity Theory Perspectives" appears in Pastoral Psychology. Her current book project, Holding the Tiller, focuses on faith, adaptive leadership and transformation of mainline pastors who led their churches to closure. She serves as Priest Associate at the Episcopal Church in her hometown. Dr. Cafferata is an avid sailor who races on inland lakes and the San Francisco Bay. She is married to Robert and enjoys spending time with their daughters and grandchildren in Boston and in Santa Rosa, CA.
Diana Ventura
Diana Ventura holds a Ph.D. in Practical Theology and Spirituality Studies from Boston University School of Theology. Recently, she was nominated by the Co-Directors of the Center for Practical Theology at Boston University School of Theology to serve as Visiting Researcher. The book project based on her dissertation integrates the academic disciplines of disability studies, practical theology, and spirituality studies in the hope of developing proposals for transformation. The book takes a practical theological approach that engages in a mutually critical conversation to explore the everyday lived faith of people with disabilities through an analysis of ethnographic interviews in dialogue with two mystical authors, Julian of Norwich and Teresa of Avila. She is the author of Our Fractured Wholeness: Making the Courageous Journey from Brokenness to Love (Wipf&Stock, 2010).
Dr. Ventura's teaching and research focuses upon a wide range of topics including: spirituality, practical theology, disability studies, chronic disease, aging, qualitative research methods, Christian spirituality, spiritual autobiography, work and family life, contemplative prayer, and Christian mysticism. Dr. Ventura frequently lectures and preaches on the topics of disability, religion, spirituality and theology. During the spring 2018 semester she will be teaching a workshop entitled, Disability, Theology and Ministry at Boston University School of Theology. Dr. Ventura currently serves as At Large Director for the Society for the Study of Christian Spirituality. She also serves as Ethical Reviewer for New England Institutional Review Board and is Chief Data Administrator at Harvard University's Center for Biostatistics in AIDS Research. She recently collaborated on a research project concerning risk factors of HIV medications the results of which were published in the Journal of Infectious Diseases.