Kilachand Hall Phase 2 – Construction Update – 12/22/22
General Project Information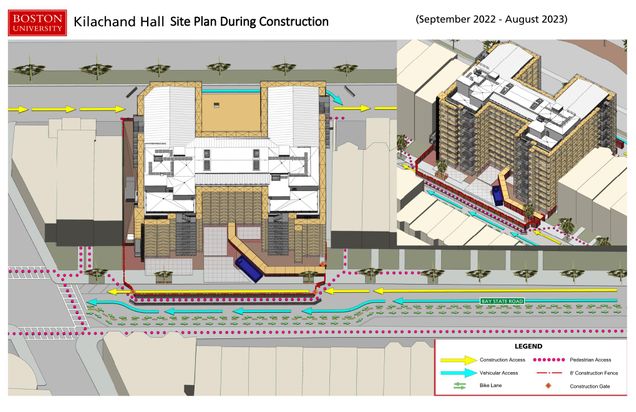 Daily Work Hours from 6 am – 3 pm. The team will be starting at 6 am during the winter recess for interior work to take advantage of the unoccupied dormitory. The exterior hoist will hold to a 7 am start time.
The Traffic Management Plan for the project has been approved by the Boston Transportation Department and is in place.
Relocated accessible parking spaces posted for use on 6/29 (in front of 81 and 83 Bay State Road).
Jersey barrier site containment in place, pedestrian walkway also in place and operational. City sidewalk in front of Kilachand Hall is permitted to be used as part of the construction site limits.
Bike lane is fully functional in front of Kilachand Hall
BU parking spots directly behind Kilachand Hall on Back Street remain a "no parking zone". This will continue for the duration of the project to maintain an adequate drive lane for local traffic on Back Street and allowing for the construction team to safely contain a work area north of the dormitory
During the weeks of December 26th and January 2nd
In observance of Christmas and New Year's Day, there will be no work taking place on December 26th and January 2nd.
Riggs masonry crew back on site working on the brick rebuild on the level 8 façade at the north elevation.
Empire masonry crew continuing with elevator hoistway concrete construction on level 9.
Badd Bros will be finishing up miscellaneous detailing at the elevator and stair area steel. They will also be working on the new joists and columns for the existing roof structure support in the center area of level 9.
Royal Steam Plumbing and Murphy Electric will continue with scheduled critical rough in work in the new suite areas.
Mass Acoustics will be framing headers for the curtain wall on level 9, exterior framing at the penthouse on level 9, and starting sheetrock on levels 2 through 6 following rough inspections in renovated suite areas.
Cogswell continues with rough in of the fire protection system in renovated suite areas.
JC Floors will be continuing with floor prep for bathrooms in suite areas.
The University's low-voltage team will be pulling cables for dormitory room network drops in renovated suite areas.
Consigli/Riggs team on site for cleaning, support, and supervision.