Parking & Transportation
Walking
Walking between most destinations on the Charles River Campus usually takes under 20 minutes.
Bluebikes
Utilize one of the six convenient Bluebikes stations along the Charles River Campus to travel around campus as well as to and from the ceremony.
MBTA
MBTA Green Line (B) and 57 bus service will be operating on a normal Sunday schedule.
BU Shuttle
Shuttle service will provide free service throughout the weekend for our guests. Updated in the spring semester, hours of operation and specific shuttle stops can be found on the Parking & Transportation website.
Rideshare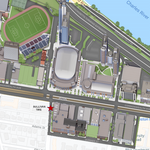 For those using rideshare services or being dropped off for the All-University Commencement, in order to avoid traffic on Commonwealth Avenue, please ask your driver to drop you off at 250 Pleasant Street, Brookline MA. This location is across the street from the Agganis Way entrance to Nickerson Field. (see map)
After the ceremony, for those being picked up or picking up your party, please proceed to our corporate partner Sullivan Tire at 950 Commonwealth Avenue. Limited live parking will be available, and any cars left unattended will be towed as parking is strictly forbidden in this lot. Please wait with your car until your party crosses the street after Commencement.
Parking
For those who must drive to campus, all parking lots and garages will be open and available free of charge throughout the weekend. Any vehicles left overnight, should park in Warren Towers Garage.
On Commencement Day, please utilize parking facilities east of the BU Bridge and utilize the available shuttle bus to travel to Nickerson Field. Parking is extremely limited in the area of Nickerson Field and West Campus.
All lots throughout BU have accessible parking for those with disabilities. Additional details for any guests requiring a designated accessible parking permit will be available on the Disability & Access Services page.