COM Career Services
Boston University College of Communication
640 Commonwealth Avenue, Suite 112
Boston, MA 02215
Hours: Monday – Friday, 9:00am – 5:00pm

Office closed on university holidays and when inclement weather causes campus-wide closure.
Phone: (617) 353-3490
Email: comjobs@bu.edu
---
Our Staff
Patrick Nelson, Director, Career Services
pnelson@bu.edu | LinkedIn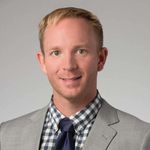 As a proud COM alumnus, Patrick has worked in professional sports communications with the Red Sox and Bruins as part of their media relations, community relations and foundation efforts. He's also spent time working in development with multiple non-profits leading corporate engagement and event planning fronts on behalf of health and high education interests. Through these experiences, he's formed an extensive network throughout Greater Boston, which he aims to engage in connecting COM students with incredible internship and job opportunities. 
COM Career Services strives to engage students in career development and experiential learning that will empower them to successfully pursue their educational and professional goals during and well beyond their time at Boston University
"Shape your own circumstances and never be satisfied with the height of your standards. Be yourself. Find your blueprint and follow it."
---
Heather Fink,  Assistant Director, Career Services
hfink@bu.edu | LinkedIn
Heather is a career coach with a passion for empowering others. She believes the best way to empower an individual is by helping them find a career where they can support themselves financially and feel valued. Heather does this by helping students explore their values, interests, personality, and skills while helping students develop action plans to pursue careers that would be a good fit for their needs.
Heather has a background in career services and has worked at several schools in the Boston Area. Prior to her career in higher education, she conducted research on anxiety disorders at the VA Hospital's National Center for PTSD.
In addition to her role at BU, Heather enjoys staying active by riding her bike to work and doing partner acrobatics.