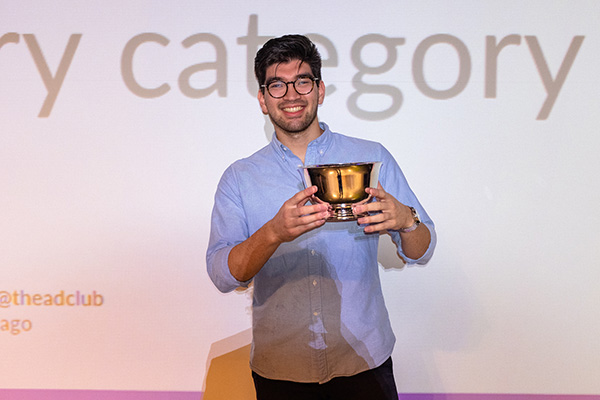 COM students took home 19 of the 26 student awards given out at the 59th Annual Hatch Awards for Creative Excellence last night at the House of Blues.
COM students snagged one gold, six silver, five bronze and seven merits awards. Thirty different students, both graduate and undergraduate, from portfolio classes taught by Edward Boches, Doug Gould and Pegeen Ryan, were among the winners.
Winning work included campaigns, short films, videos, experiential, social media, transit and posters. All 19 winners are featured in the Ad Club's 2019 Hatch Book and on its website.
"This was an especially rewarding night," said Gould, a professor of advertising who joined four faculty and more than 30 students and alumnae who attended the celebration. "The entire New England creative community witnessed on the big screen what our students are capable of."
"I expect there will be no shortage of calls from local agencies looking to hire interns and entry- level talent after what they saw tonight," added Ryan.
The winning work was for brands that included The New York Times, Amtrak, Liberty Mutual, Nintendo and other large and small companies. "The students are working on challenging briefs that call for that elusive blend of intelligence and cleverness and they delivered," said Boches.
In addition to BU COM student winners, BU COM alumnae garnered gold, silver and bronze awards for work they created at agencies including Hill, Holiday, MullenLowe, Arnold, Allen & Gerritsen, MMB, Digitas LLB, and Connelly and Partners.
"That, too, was a joy to witness," said Gould. "At events like this we can really see COM's impact on the industry."
The Hatch Awards is one of the country's premiere regional creative award shows, regularly featuring winning work that goes on to prevail at national and international shows including One Show and Cannes. Judges hailed from many of the top creative agencies in NY, LA and Chicago.