About Clarion
OUR VALUES. Our editors strive to assemble magazine issues which are human-hearted and equitable; where texts and images work in thoughtul concert; and where creators of whatsoever class or identity can be assured of an open door to publication opportunities and literary community. We are particularly committed to boosting underrepresented voices, and in publishing a diversity of experiences and imaginings.
OUR HISTORY. We began as an undergraduate literary magazine, published by BU Students for Literary Awareness in the fall of 1997. The group's original members, under the leadership of Jennifer Herron, meant to publish a magazine called The View from a Window; however, campus plans often being well-laid and then lost, the first issue was released in spring 1998 under a more enigmatic title: a single question mark. Beginning in 1998, the magazine was renamed Clarion, and in 1999, the group publishing it took on the new name, BU Literary Society. For its first decade, Clarion published only the work of BU undergraduates; but in 2008, the editors decided to open their doors to submissions from writers anywhere in the world. In 2010, the editors expanded the scope of their contents, commissioning reviews and interviews to complement the new works of poetry and prose. In 2016, the magazine began to publish online art galleries, to bring attention to the work of new and emerging visual artists. In 2011, ownership of Clarion was transferred to Pen & Anvil. From then until 2016, publication of the journal was a partnership between that independent organization and the student officers of the Literary Society. In Fall of 2016, Clarion became one of the founding members of the Bonfire Press, a network of mutually supportive college-affiliated literary magazines. As of 2017, Clarion no longer has any status as a student organization. Instead, it is a joint publication of Pen & Anvil and the BU BookLab. Its principal editorial positions continue to be staffed by undergraduates, who serve as BookLab interns or fellows during their time with the magazine. Other editorial positions are filled by graduate students, alumni, and persons outside of Boston University.
As of 2021, the magazine continues to have a home at BU, where it is very much a part of the campus community of learning and artistic endeavors.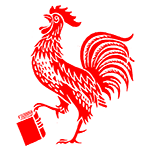 OUR DRESS. From 1999 to 2021, our logo was the image of a crowing cockerel, Rojo Gallo, clutching a book (shown at right). Our thanks to Lauren Shapiro for expanding on that brand theme, creating a set of ink drawings of feathers, rooster feet and other bird and literary motifs which for several years defined our look in print and online. In 2021, our mascot took inspiration from the wild turkeys which roam the BU campus and underwent a personal transformation to emerge anew as Rojo Pavo. We thank Hannah Dion for her artwork.
CURRENT MASTHEAD
Editor: Zachary Bos.
Readers: Cynthia Phan, Kayla Randolph.
MASTHEAD ARCHIVE. Past Editors-in-Chief: Josette Akresh, Samantha Arnold, Zachary Bos, Frances Gossen, Monica Gribouski, Garrison Gudenas, Jennifer Herron, Cassandra Jones, Matthew Lemoyne, Jonathan Maniscalco, Elizabeth Moss, Nicole Norman, Bora Panduku, Tom Simmons, Sandy SooHoo, Sara Trotta. Past Staff and Contributing Editors: Autumn Ahn, Daniel Andrade, Madeline Aruffo, Monique Avila, Daphne Bacon, Sara Balsom, Jake Bann, Sara Bass, Angela Beckett, Matt Bennett, Rick Berger, Amiel Bowers, Sophie Buonomo, Samantha Burke, Graham Cavanagh, Abigail Clauhs, Adam Cloe, Stephanie Cohen, Lisa DeBenedictis, Jenna Dee, Lydia Erickson, Keren Eyal, Emma Forbes, Jamiee Garbacik, Sarah Glicksteen, Aaron Graves, Garrison Gudenas, Danielle Hallock, Ryne Hager, Cordelia Hall, Michael Healy, Emily Hopkins, Kari June, Joel Kahn, Kasia Karr, Liza Katz, Elizabeth Kechejian, Jason Kleckner, Ada Kulesza, Hyun Sun Kwon, Justin Lievano, Gigli Malinsky, Sandor Mark, Drew McPartlin, Simon Mendes, Fatima Mohie-Eldin, Ernesto Morales, Robert Morris, Samantha Neary, Frederick Nitsch, Graham Ogilvie, Caitlin O'Hallorhan, Erika Panasci, Sono Patel, Abagail Petersen, Elizabeth Ann Peyton, Jaqueline Porte, Jordan Rock, Chris Russo, Stephanie Santana, Lauren Shapiro, Laura Straub, Sydnie Strider, Eric Swaine, Alina Szremski, Christine Toohey, Lauren Wells, Katie Wurtzel, Jeremy Yanofsky, Jooyoung Yeu, Amber Ying, Janice Yong, Michael Zisser. Past Interns: Madeline Aruffo, Lydia Erickson, Kush Ganatra, Kyle Giroux, Jonathan Maniscalco.
PARTNER PUBLICATIONS. • BURN. In the summer of 2009, the Literary Society inherited Burn, a magazine launched to showcase more experimental writing. Since then Burn has opened submissions to students or student-age authors from anywhere in the world.• BBR. In the spring of 2010, BULS took over publication of Back Bay Review, an arts-and-culture magazine specializing in criticism, which was originally founded by the now-defunct BU Editorial Society. BBR is now devoted to publishing undergraduate work in the humanities, classics, and criticism. • PBJ. Also in 2020, BULS staff began a partnership with Pusteblume, a journal on and of literary translation. That publication remains active as a professional journal, published by Pen & Anvil in partnership with the Boston University Department of World Languages and Literatures and Editorial Institute. Students have the opportunity to serve as editorial or production assistants, as BU BookLab interns. • COUP. In 2013, the BULS launched a new journal, Coup d'etat. That magazine remains active as an entirely student-managed project.
IN THE PRESS. "Get Published, Get Heard: The Charles River Literary Fair" by Clarissa Keen for the quad, 10.19.09. "Dogged initiative propels new student literary magazine" by David Craig for the B.U. Bridge, 11.19.99. "Magazine seeks BU funding," by Alexandre Alfredo for The Daily Free Press, 10.22.97. "Students invite others to write at open house" by Stephanie Rubenstein for The Daily Free Press, 9.27.06. "Students, faculty united during Friday's 1920s gala" by Aaron Greenblatt for The Daily Free Press, 10.12.04.