Downtown After COVID: IOC/CPUA Panel Explores Key Questions in Urban Pandemic Recovery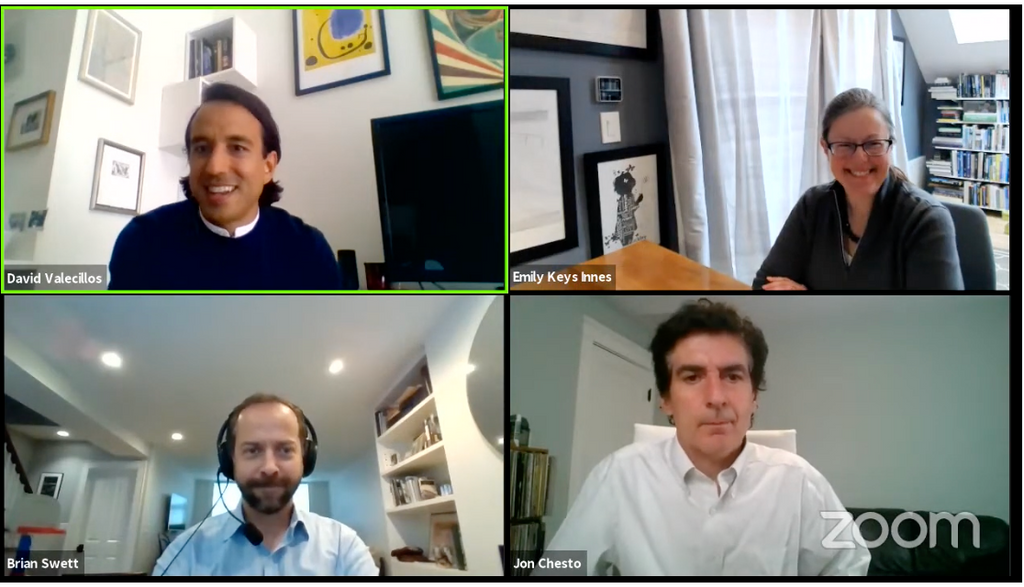 As the weather warms and the city of Boston emerges from a long winter defined by the ongoing COVID-19 pandemic, one question looms in everyone's minds: what will our cities look and feel like in the months ahead?
The April 7th panel "Downtown After COVID: Will Urban Centers be the Same?", hosted by the BU Initiative on Cities and BUCPUA, centered around this very question. The virtual event brought together three experts in city planning, sustainability, and real estate for a conversation moderated by Jon Chesto of The Boston Globe: Brian Swett of the global design firm Arup; Emily Keys Innes, founder of Innes Associates and current CPUA faculty member; and David Valecillos, Director of Design at North Shore Community Development Coalition and a CPUA faculty and alumnus.
Chesto's first question invited the panelists to share their general perspectives on the future of cities post-COVID.
Swett touched on the tension between people's desire for a return to socialization and the benefits of working from home. "After the year-plus that we've been through, I think there is a sincere desire to interact more with our colleagues, but not necessarily a return back to full-fledged normal," Swett said. 
In his view, the cities that have fared best during the pandemic have been those that were "inherently further along in progress to a walkable urbanity with a mix of uses." With less people commuting and more people spending time outside, Swett envisions a future in which "we can use our outdoor spaces and our public realms and reduce some of the areas that we had devoted to parking and logistics."
After Innes and Valecillos offered their perspectives, Chesto shifted the conversation to what Boston's recovery might look like as compared to smaller cities.
Innes named several policy changes that could benefit both larger cities like Boston and smaller cities and towns throughout the region. In addition to expanding broadband internet access to facilitate working and learning from home, Innes said leaders should focus on "making sure that we have a strong regional network of transport, whether it's bus, train, light-rail." 
"That's what's going to make a successful region and state recovery and not just a successful Boston recovery," Innes said. 
The conversation moved to infrastructure investment, and Valecillos emphasized the need to invest with an eye towards social justice and equity. According to Valecillos, a major component of equitable investment is "helping make transit cool again." 
"We have decades of policy making focusing only on the car and how to benefit the car and the highway," Valecillos said. "How do we shift that paradigm so that when you go out, you take the bus, you take the train, it's cool and it's nice and it's how you see your friends?"
One reason why efficient transportation networks will be so important in the post-pandemic world is shifting patterns of work and leisure. Swett pointed out that when remote employees are no longer leaving their homes for work, they will be more willing to travel farther in their free time. This opens up "the opportunity for our region to get much less structured about when we're working, when we're playing, and when we're visiting each other."
From Innes' perspective, Boston and its surrounding towns should capitalize on this opportunity by building transportation systems that allow people to "jump over to the next town or two towns over" after work. Instead of having just one large urban cultural center within a state or region, Valecillos added "there might be different energies focused elsewhere."
A subsequent audience question about the role of public parks in urban recoveries elicited an enthusiastic response from the panelists.
"Parks are a foundational aspect for any community, but especially for a big city," Innes said. "How do we think about these places, whether large or small, as really being fundamental rights for the communities?"
According to Swett, new parks and public spaces might not appear to have obvious patrons, but "you build it and people will come out of the woodwork at all hours of the day for something cool and a new experience in the public realm." In Valecillos' experience, public parks are key to bringing together people from different backgrounds and fighting urban segregation.
Chesto concluded by asking the panelists for their suggestions about how the benefits realized from urban pandemic recoveries can "be shared by all going forward."
Swett said cities should be intentional in uplifting communities that have been historically disprivileged and forgotten. "We have to be justice-oriented and inequitable in our investment in the sense of investing in communities that received less investment in the past," Swett said. 
From Innes' point of view, the pandemic laid bare many of the inequities in our cities, and leaders should seize the opportunity to address them, whether through easily accessible transportation or affordable multigenerational homes.
"Low-income communities deserve great design and great solutions just as much as higher-income communities do, and I think sometimes we forget that," Innes said. "Let's put our best talents in design of systems as well as places [for] those communities and really invest in them."
Emanne Khan, CAS '23