#BUCPUA Hosts Actionable Sustainability Symposium on Technology, Policy and the City
On Friday, April 21, Boston University Metropolitan College's City Planning and Urban Affairs students, faculty and alumni gathered at the Initiative on Cities brownstone at 75 Bay State Road for a full-day Symposium, titled "Technology, Policy and the City." The event was co-sponsored by the Initiative on Cities and the Urban Planning Association. It included a lecture and workshop led by Dr. Ramon Sanchez, Director of Sustainable Technologies & Health at the Harvard Center for Health and Global Environment, a keynote lecture by Nigel Jacob, Co-Founder of New Urban Mechanics for the City of Boston, and a panel discussion moderated by Dr. Madhu Dutta-Koehler, Associate Professor of Practice and Director of BU's City Planning and Urban Affairs Program.
"It was exciting to be part of the symposium to talk about the intersections of technology, policy and sustainability. There was a great turnout by members of the BU community including students, faculty and alumni who were interested in these issues. The different speakers were able to provide diverse perspectives on the set of topics, whether their background was local government, the non-profit sector, advocacy work or running programs in a university setting," said panelist Erica Mattison, Legislative Director of the Environmental League of Massachusetts remarked. Mattison spoke amongst panelists Dr. Joshua Hassol, Technology Policy Analyst at the U.S. Department of Transportation and adjunct professor in BU's City Planning and Urban Affairs Program, Bradford Swing, Director of Energy Policy and Programs at the City of Boston, and Brian Swett, Director of Cities and Sustainable Real Estate at Arup.
Dr. Sanchez's lecture "Climate Change Preparedness Vulnerability Assessment and Risk in the Built Environment" reminded students about the climate change challenge, mitigation and adaption projects, and the concepts of risk, vulnerability and resiliency. The subsequent workshop on Dr. Sanchez's development based off the U.S. military's vulnerability assessment and risk management tool, the Failure Mode Effects & Analysis (FMEA) for climate change preparedness in the built environment, drove home the urgency to mobilize communities to characterize, reduce and manage risk at every stage to mitigate/adapt to the climate change challenge in sectors ranging from healthcare infrastructure, housing and urban public spaces, to transportation and communications' systems. The FMEA chart assigns a Risk Priority Number (RPN) on a 1 to 1000 scale based on an evaluation of the severity, occurrence and detection numbers of different scenarios. "What if I-90 or the Park Street T-station floods?" Dr. Sanchez asked, urging the audience to imagine scenarios close to home. He spoke of the difficulties of finding the pain points of cities or "hotspots," and explained how the FMEA can suggest corrective action for scenarios with a RPN above 150.
"Political will is the scarcest resource we have right now . . . we have the solutions, we just have to change the language," Dr. Sanchez claimed. He then spoke of his experience of requesting city planners, managers and mayors to sponsor and train 300 people in various communities to learn how to use the FMEA to create climate-resiliency solutions and cost-reduction opportunities. He reiterated that the process must be democratic to be effective, involving the entire community. At the end of the workshop, Dr. Sanchez proposed initiating an online joint certification program between BU and Harvard.
"It's not technology instead of something else . . . technology allows people to use a different part of the brain," social entrepreneur Nigel Jacob from the City of Boston's New Urban Mechanics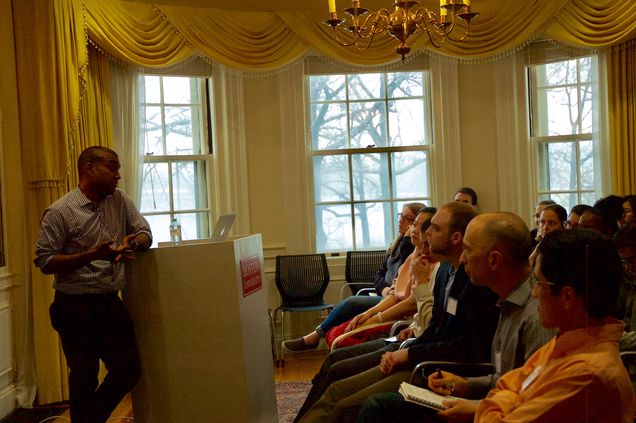 contended in his lecture. New Urban Mechanics has been working on a plethora of initiatives since its installation to define new methods of human-centered design and thinking. One idea comprises of helping change public school registration by creating an interactive website for parents, while another idea, the "Boston 311" app, allows residents of the city to take pictures of problems and send them immediately to a response team. Jacob also shared that after working with a research group in Emerson College, New Urban Mechanics realized that aggressive behavior in town hall meetings happen due to lack of information amongst the public, which prompted them to create a game to communicate issues in small groups. The Tiny House / Urban housing Unit project that was open to the public demonstrated to Bostonians that bigger is not always better, while the living draft of the Smart City Playbook laid out what works and what to stop doing in Boston in a humorous fashion. These programs embody the principle that psychology and technology are important, and together they can solve "real problems for real people."
"Innovation is not technology . . . it's not data, it's always about people," Jacob stated. He explained how "smart cities" must optimize for impact on people using technology to build compassion based on the criteria of a project's potential for impact, testable ideas and their potential for scale. Through his lecture, Jacob illustrated how his job is "to invent the future of city services" by asking questions to help leverage and tackle big issues ranging from multigenerational poverty to climate change.
The third section of the symposium kicked off with Brian Swett's presentation on Arup, an independent firm of designers, planners, engineers, consultants and technical specialists. Swett introduced the broad portfolio of projects in the sustainability-policy-technology-interface that Arup is working on—specifically the Digital/Smart City research publications and their work in the transport, utilities, cities, property, sports and major events and generic built environment sectors. Swett emphasized the importance of restricting barriers in the developing world, so technology does not outpace policy.
"It's wonderful to have BU help its students understand what it takes to develop innovation in the real world. It was an honor to be with my colleague Nigel Jacob, who has done such a remarkable job in the Mayor's office of New Urban Mechanics. I was very happy to share my experience developing district energy micro-grids, creating public-private partnerships and discussing what it will take to build a climate-ready Boston," said Bradford Swing, who has 22 years of experience working in the municipal government shared.
Swing also commented on the possibility of creating a multi-user micro-grid with integrated energy, transit, water and communication planning in South Boston's Raymond L. Flynn Marine Park through collaboration between Boston City Government and utility companies such as AECOM, General Electric and Axis Engineering. He remarked on the 2014 policy workshops and MIT Sustainable Design Lab's 2016 Boston Community Energy Study that produced city-wide results on cost/benefit analyses and the total capacity for energy supplies. Some challenges include deploying local generation and storage, developing smart-grid and smart-building technologies and creating islanding capability for critical loads. Developing partnerships to catalyze cash flows will help capitalize on initiatives, and that is what Boston needs to understand going forward in the face of the technology era.
"We need to enact legislation to authorize city government to procure the public-private partnership necessary to work with a private developer to design, build and operate the district energy micro-grid for us. We have authority from the Boston Planning and Development agency to issue that procurement, but we now need Boston City Council to approve a home-rule petition, a piece of legislation that the state legislature needs to pass to allow Boston to do something specific to Boston. . . . I would hope that we would have a district energy micro-grid in the ground in a few years," Swing said.
Technology Policy Analyst for the U.S. Department of Transportation and adjunct professor at BU Dr. Joshua Hassol, commented on transportation during the symposium. Transportation is the fastest growing industry that is emitting carbon dioxide. Dr. Hassol elaborated on the three levers of action applicable to decreasing greenhouse gas emissions—1. the carbon content of fuel, 2. fuel efficiency standards and carbon pricing to encourage efficiency through market systems and 3. reducing the amount of "fossil-fueled" travel through electrification of short distances and re-investment to allow different kinds of travel. The panelists then directed the discussion to various "future-proofing" ideas for climate change and equity, project-based hypotheses and policy developments ranging from the possibility of driverless vehicles in relation to the problem of smart-phone and mobility access, to home energy audits at the time of sale, to the potential decommissioning of fossil fuel electrification by 2030.
The last panelist speaker, Erica Mattison, shared her experience as Legislative Director of the Environmental League of Massachusetts and urged the audience to set social goals: "As a non-profit, environmental advocate, the focus of my remarks was on the importance of activism to help shift our society swiftly toward resource decentralization, which will democratize everything from water and food access, to our transportation, to where our energy comes from. By organizing and advocating, people can influence policies and make that shift happen sooner, making our communities more resilient and improving overall health and equity. Access will be less centralized and the control over resources that we depend on, will be more in the hands of people on the local level and less in the hands of large corporations."
"If you want to have an impact, you need to know who represents you on a federal level, state level and on a local level. You need to know who they are and start a relationship with them so they know who you are and so you can build a positive relationship. They will be responsive and look to you for your own expertise and your own thoughts on issues once they see that you are passionate and knowledgeable. You can become a reliable resource, especially on the local level," Mattison said.
Swing also gave some parting advice to students: "Any opportunity to intern at a government office will certainly give a front-line view of the actual challenges of representing a community and 'innovating' innovation. It's amazing to me how much coursework is available to students in environmental studies and energy systems, and in sustainability in general. The emerging academic world that is preparing students is very welcoming of development, one that has happened since I was the age of the students that I have met today. Take advantage of the coursework available here but don't be frightened of obtaining a liberal education. I am currently Director of Energy, Policy and Programs to the City of Boston, but I studied Medieval History and became a lawyer, so I think it's important to learn how to learn, as much as it is important to focus on specific subject matter expertise."
In summary, "Technology, Policy and the City," was a massively successful event on the part of the Urban Planning Association, the Initiative on Cities and the City Planning and Urban Affairs Program at BU's MET College. Each of our speakers was informative, interesting and challenged us to think critically about the intertwined relationships between technology, policy and their impacts on cities now, and in the future. Everyone in attendance gained firsthand knowledge on the different approaches they can apply in their own lives, in their communities, at the local/state/federal government levels and with private industries. On behalf of our department, thank-you to our speakers and audience for joining us, and thank-you to the Initiative on Cities for hosting us and making this event possible.
– Savannah Wu, CAS '19, Karol Montilla, CAS '19, Cecilia de Almeida, CAS '19 and Fiona Coughlan, MUA '18