Cloe Rankin wins 2023 College Prize in Cinema & Media Studies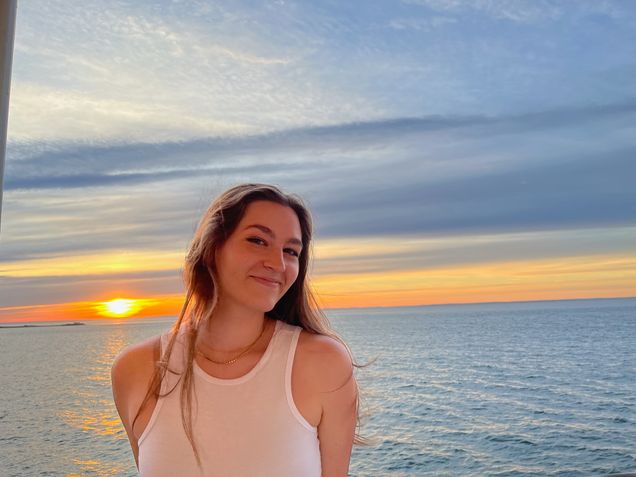 Cloe Rankin has been named the 2023 College Prize winner in Cinema & Media Studies. The College Prize is given to one student in each department or program each academic year based on the following criteria: Strong academic credentials, as demonstrated through the classroom, laboratory, or in the field. Participation and, ideally, leadership with student organizations within the department, College, or University. Support of fellow students through peer education and/or tutoring. Outreach for the department through events such as open house.
Cloe discovered a passion for film during her Junior year; she has since excelled academically and intellectually at BU. Her coursework in CIMS earned her a spot on the Dean's List for the past two semesters. Inside the classroom, Cloe distinguishes herself as an engaged participant whose inventive and elegant interventions reveal an eye for the nuances of film aesthetics. Her in-class performance is matched by her written work, which also demonstrates attentiveness and incisiveness, as well as a true engagement with cinema's capacity to challenge us. The CIMS faculty is eager to see what Cloe will contribute to film criticism in the future. We are delighted to recognize her academic passion and intellectual curiosity with a CollegePrize.
In her own words:
"I've had such a great time getting to be a part of the CIMS program here at BU. I was undecided until Fall of junior year when I declared an Earth and Environmental Science major. I soon realized that this was not the right fit for me, and by Spring of junior year I finally decided to declare a Cinema and Media Studies major. I was nervous jumping in because I knew I was starting much later than most, but once my classes began, I quickly became engrossed in the material. I've very much enjoyed getting to learn about the history of cinema worldwide as well as how to contextualize and analyze different elements of film through various filmic theories. I also enjoyed getting to learn in depth about various directors; a class I particularly enjoyed was an auteur class on director Akira Kurosawa. My film professors have also been so incredibly helpful in my academic success at BU as well as in fostering my interest in watching and thinking about films in a whole new way.
After I graduate, I hope to become a part of the film industry in some way. I'm not sure exactly yet of what role I'd like to play, but I think my goal would be to either one day edit footage of a film or show or even film the footage itself and get to be behind the camera."
Cloe will be celebrated at the May 19th ceremony hosted by the Dean's office.