Boston Universities 2017 Chemistry Undergraduate Symposium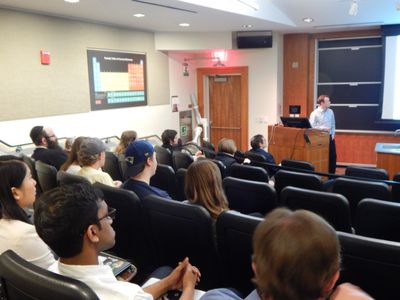 On Friday, May 5th, 2017 the work of 11 students was spotlighted in this year's Undergraduate Research Symposium (URS).  The outstanding quality of the projects presented underscored the importance of the hands-on, challenging research that is the hallmark of BU's Chemistry major. The even was organized by the Undergraduate Programs Committee, Professor John Snyder and coordinated by our Undergraduate Coordinator, Lauren Jett.
URS was first instituted in 1987 by then Director of Undergraduate Studies, and now Emeritus, Prof. Mort Hoffman, and has been a much anticipated, spring's-end annual event ever since.  The Symposium is modeled along the lines of talks at an American Chemical Society (ACS) meeting:  12 minutes of presentation followed by 3 minutes of questions and discussion.  Capping the day was the announcement of the Departmental Awards, followed by a celebratory BBQ for the students, their faculty advisers, graduate mentors, and their guests.  To view URS photos, please click here.