CGS Syllabus: Building StoryMaps of London
By Rukshana Khan 
Experiential learning is a key aspect of CGS's curriculum, particularly in the summer semester of students' first year. Whether students are studying in London or New England, faculty prioritize out-of-the-classroom learning experiences that allow students to make connections across their courses.
So when CGS students were able to return to the six-week London semester in summer 2022, they were given projects and assignments based on real-world applications and various cultural experiences. For students in Team F, a "StoryMap" project encouraged them to describe key takeaways from different London geographical sites visited during the semester, while using digital media to tell a story about their London experience.
The Assignment
For the StoryMap project, students applied their thoughts on certain historical sites, performances, and London landmarks visited by answering set questions from their Team F professors. Then, using a virtual program discovered by Rhetoric Master Lecturer John Regan, students aligned their responses to the landmarks on an actual map.
Before each trip, students were given a few questions to think about, so that they could be prepared to approach the final assignment, according to Associate Professor of Rhetoric, Aaron Worth. The assignment also asked students to  reflect on England's history as the center of a vast global empire of English-speaking nations.
Some of the sites the team visited were Brighton, Oxford University, Shakespeare's Globe, the Imperial War Museum, White Chapel, Night at the Opera, and the Royal Pavilion. While students did not write responses on all of the trips, the trips all acted as a representation of British culture and history. 
"We went on different trips and activities, but how did they all connect? What are some ways to deepen the experience?" said Regan. He stated that "this was a move towards creating some unified thing," when it came to linking all of the team's London trips. 
The Reading List
While most of the assignment was based on experiences, several readings from spring semester courses helped students prepare for the StoryMap project. Some readings included The War of the Worlds by H.G. Wells, The First Men and the Moon by H.G Wells, Shakespeare readings, as well as several short stories and poems on the Suffragette movement in England, women's participation in World War I, and analysis of various art pieces. 
"It helped on a level where you're able to make connections from what you're learning in class to why you're going on these excursions, and how it relates to the curriculum as a whole," said Kohana Bondurant ('23, CAS '25), who used various poems read in her classes to apply to her StoryMap project. 
Learning Goals
RH 104 covers a Hub unit related to digital and multimedia expression. Students were asked to photograph their experiences at these trips and plot them on the map.
Regan explained what he wanted students to apply from his rhetoric classes to the project.
"I wanted to spend more time on shorter writing assignments, more frequent, but with the real attention to the sentence level…there's a lot of moving parts you're trying get students to develop deeply, organize their essays on a global scale, and while I did give them sentence level instruction, coming over to London, I really foregrounded that."
Students were given the opportunity to express their creativity by using an online program by knightlab designed for creating StoryMaps. Not only were they able to hone their photography skills, but they were able to visualize and create their own map of England. 
Approaching the Assignment
Due to the creative nature of the assignment, students of Team F all had their own approach to it. 
Naomi Grusby ('23, Pardee '25), said her project was a "gradual process," and that it was most helpful for her to write down her feelings and facts in bullet form right after each trip. 
"I really enjoyed the Julius Caesar Globe trip, just from a historical standpoint, I thought it was very interesting," said Grusby. "You don't often get to be in the place where something was meant originally to be performed, or being able to experience what we can interpret from what Shakespeare maybe intended for this play."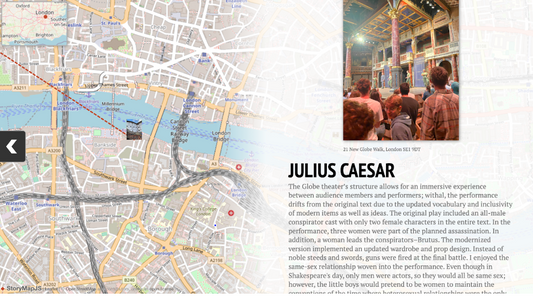 Meanwhile, Bondurant found some trips easier to write about than others.
"I prefer to be told a bunch of information rather than being told to 'go explore' because I like storytelling, so when I was given the ability to further the storyline or ask my own questions, those were easier to write about," Bondurant stated.
Final Grades
In the end, Team F students created a virtual StoryMap with their own photographs of their chosen trips along with descriptions of their cultural perceptions and analysis. Students enjoyed the creative aspect of the project. 
When it comes to the project, "slow and steady wins the race," said Grusby. She said the project taught her time management and how to write in a casual academic tone. 
"The importance of learning things as you go, recording experiences as you go, like a digital diary, that was very useful for me, because I realized after the fact that there are so many little details that I forget so easily," Grusby said. "And you think that you're gonna remember them in the moment, but in reality you might not. So, just having that kind of self-reflection afterwards is something I will definitely be doing again if I continue to travel."
CGS Syllabus is a series focused on highlighting the interdisciplinary, real-world focused projects that make the CGS curriculum unique. If you have recently participated in a CGS project you'd like to see highlighted here, please email cgscomm@bu.edu.