2022 Capstone Award Winners
On October 21, the Boston University College of General Studies celebrated the outstanding students who received awards for the Capstone projects they completed last May. The Capstone project is a 50-page research paper that CGS students complete in their sophomore year. Students draw on two years of interdisciplinary studies, working together as a team to synthesize data into a meaningful whole. The Capstone award is given annually to the group of students who present the best overall Capstone paper and defense on each team. It is the highest honor bestowed upon a College of General Studies student for an academic project.
Team S: Social Media Privacy Protection Association: A Proposal for Data Privacy

Team S's winning Capstone group–Zelin Liang, Anqi Lu, Peizi Wang, Zeya Wu, Jiarong Ying, and Yunqi Zhu–created The Social Media Privacy Protection Association, a nonprofit organization that aims to protect and raise social media users' awareness of the right to data privacy in the United States. Their Proposal for Data Privacy calls for a more concrete and transparent Personal Privacy Rating system regarding the sensitivity of personal information. They also designed the Personal Information Rating System, a personal information hierarchy authorization system that users select and authorize. Faculty said, "Rather than seeking new legislation, their proposal seeks cooperation with and support from existing social media companies to seek a fine balance between consumer privacy and corporate profitability, as well as forging ties with the Federal Trade Commission and garnering community-level support."
Team T: Maternal Mortality in New Jersey: A Midwife-Centric Solution
Team T's winning Capstone group was made up of Caroline Cain, Kyle Cioffi, Isabel Duverge, Olivia Madajczyk, Katie McHugh, Sarah Reeves, and Emma Shapiro, who engaged in a sound research project that highlighted the need to improve access to midwifery care in New Jersey. Solutions included incentives for midwives to work in communities where there is a shortage of healthcare providers and the development of educational programs to offer alternate and humane maternity care models. Team T faculty said that the Capstone was thoughtfully plotted and sophisticated in its understanding of the problem and detailed in its proposal of a solution. They wrote, "The thesis illustrated how midwives' personalized care would address factors contributing to the high maternal mortality rate such as the overmedicalization of birth, lack of access to evidence-based care, and improper treatment of postpartum depression. Lucidly-written, well-argued, this Capstone provides a model for other states to replicate."
Team U: Exploring Solutions for Boston's Rising Sea Levels
The students from Team U's winning group–Margaux Calvignac, Emma Hill, Amelia Love, Margaux Mooney, Zachary Myers, Fernando Ramirez, Aiden Schimpff, and Dylon Thompson—investigated and assessed various proposed approaches to Boston's rising sea level problem, before presenting their own plan, which combines manufactured and natural solutions. The group paid particular attention to the neighborhoods of Dorchester, South Boston and East Boston, making specific recommendations for each area. Deployable flood barriers and walls, permeable pavements, green solutions, enhancements to the MBTA system and changes to the city's annual budget are all elements of the group's comprehensive, well-researched and clearly written proposal, Team U faculty said.
Team V: On the Non-Consensual Usage of Private Consumer Data
The winning Capstone group for Team V–Myles Bahar, Olivia Clyne, Azad Ellafi, Hailey Gustafson-Alm, Elizabeth Kostina, Shiksha Nanda, and McQuaid Shin–tackled what faculty called "arguably the most challenging problem on our Capstone syllabus: data privacy." They examined the ethical, technical, and legal problems that arise as individuals give up more and more of their sensitive personal information—both willingly and unwillingly—to private corporations. Team V faculty said, "This group of students engaged these thorny problems with nuance, complexity, and a full knowledge of the difficulties they faced. They decided to take what was essentially a philosophical approach to the problem, entering into a lengthy discussion of consent in the digital age…Few of us are willing to take our lives offline to avoid the privacy concerns caused by massive data harvesting, but in their Capstone, this group of students offered us some ways to navigate online spaces with our eyes open just a little bit wider."
Team W: Resisting Widespread Antibiotic Resistance (RAWR)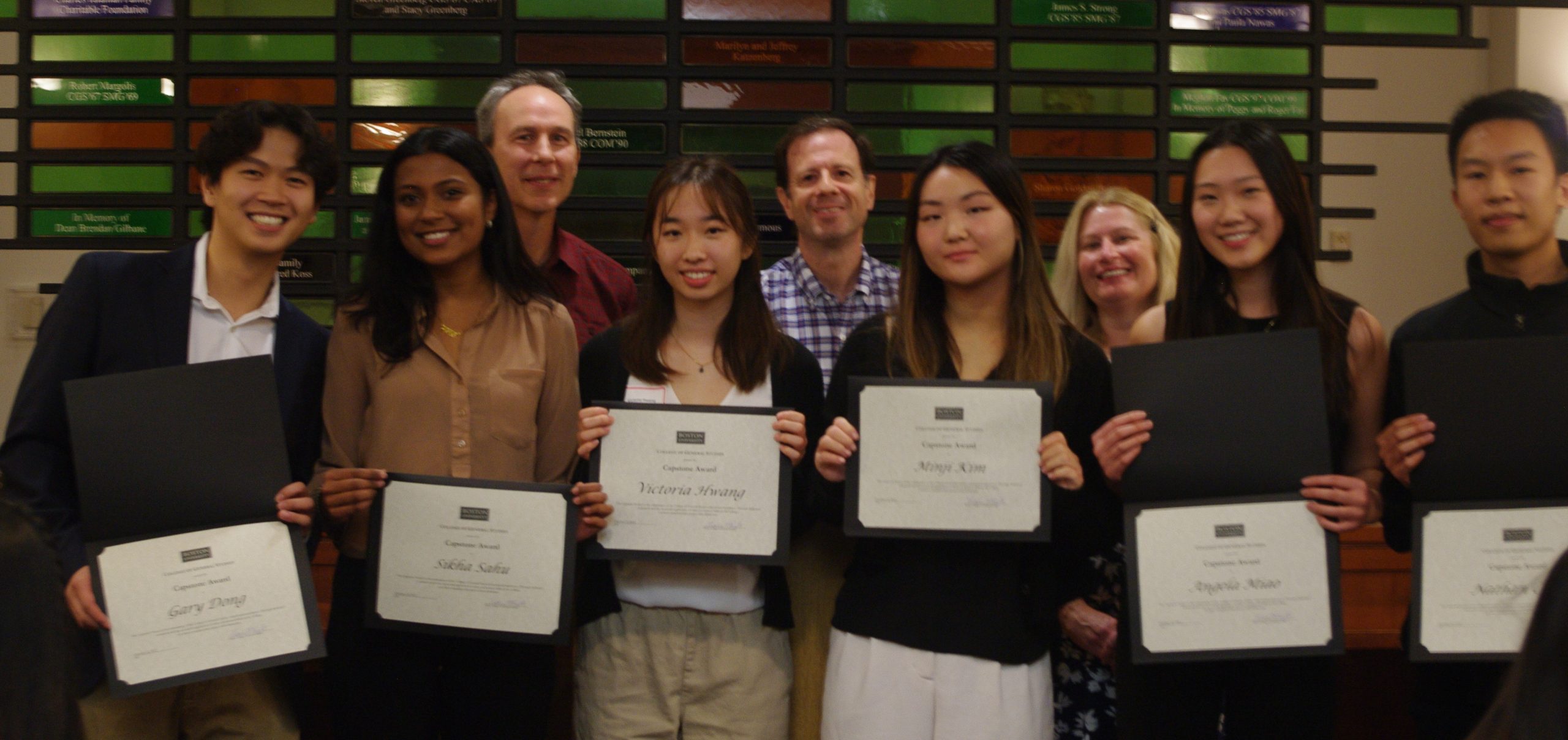 Team W's winning Capstone group–Nathan Chen, Gary Dong, Victoria Hwang, Minji Kim, Angela Miao, Eloise Ren, Sikha Sahu, and Kitty Xia–addressed the fact that bacterial resistance to antibiotics is becoming a major public health issue, with approximately 35,000 deaths from antibiotic resistant infections every year in the United States alone. Faculty said that this group not only succeeded in gaining and explaining this disparate knowledge, but also built a sophisticated and realistic policy, proposing a public-private partnership to bring new antibiotics to market. Team W faculty said, "Ultimately, this group excelled at research, wrote their Capstone in one clear voice, and formulated a policy that actually seems like it would work to address this significant problem."
Team Y: US-China Trade Relations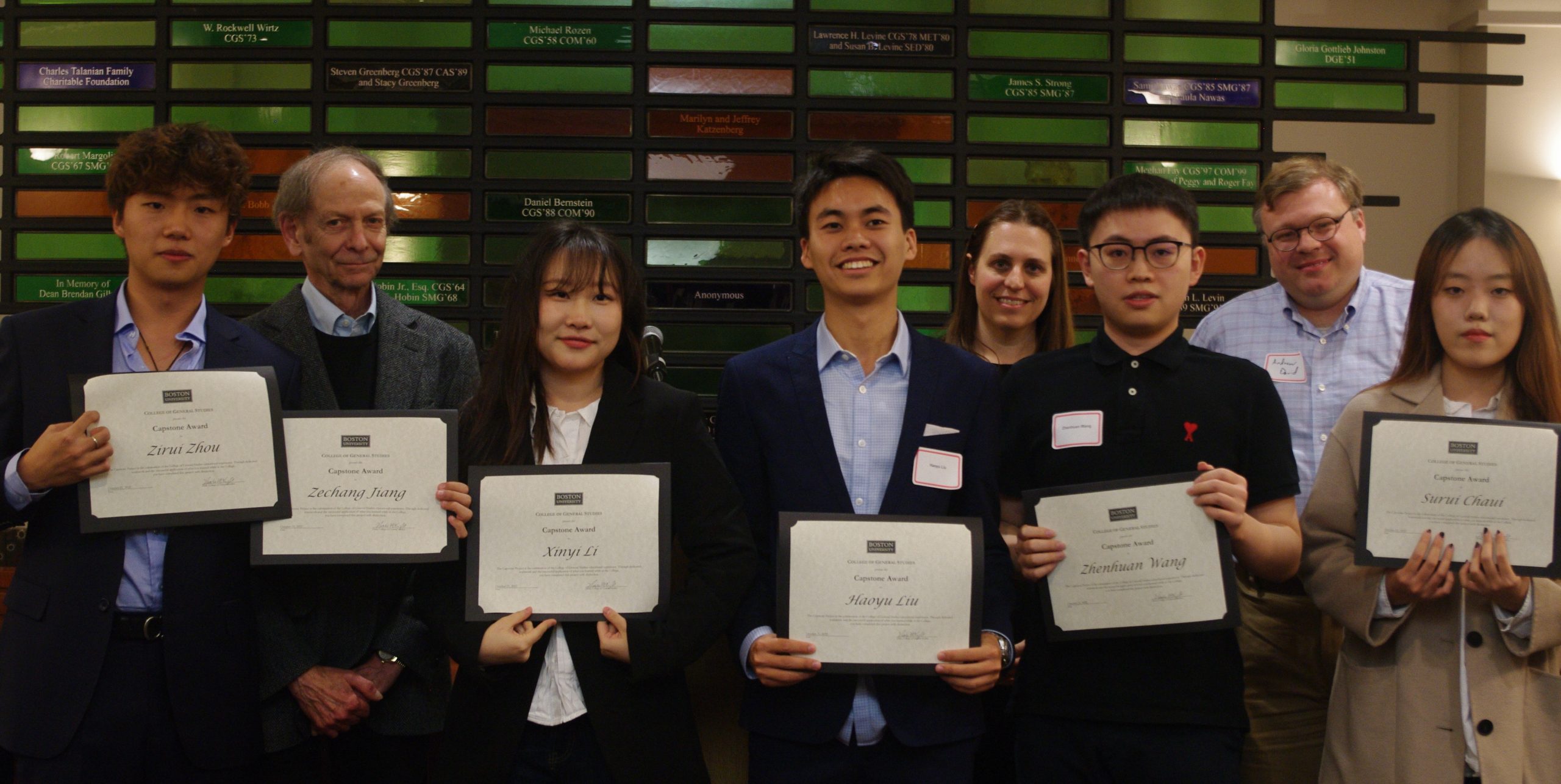 The winning Capstone group from Team Y, made up of Surui Chaui, Zechang Jiang, Xinyi Li, Haoyu Liu, Zhenhuan Wang, Sand Zhou, and Zirui Zhou, examined the trade imbalance between the US and the People's Republic of China. To explore this topic, they adopted a hybrid format that combined the policy paper approach with the adversarial approach. Team Y faculty wrote, "Their briefs from the two nations and findings from the WTO showed a deep understanding of the issues involved and proposed innovative yet realistic solutions. Most impressively, in their defense, the entire group demonstrated a thorough knowledge of their subject matter and regularly showed an ability to go beyond the basics of their written work. The energy and dedication they put into the project process resulted in a work that is an example of what groups can achieve via Capstone. Their win this year is a well-deserved testament to a well-designed, well-executed, and well-defended project that asks important questions about our world and seeks to answer them."
—Compiled by Rukshana Khan