#My100Days as a Ballroom Dancer
By Jennifer Small
For Fiona Brymer (CGS '23), the gap semester provided valuable time to pursue the hobbies she is most passionate about. Brymer, an aspiring lawyer from Massachusetts, used her gap semester to practice ballroom dancing, choreograph a musical at her high school, and win a national dance competition. We spoke with Brymer about her #My100Days experience, why she chose CGS, and her goals for the future.
Why did you choose CGS?
There were actually a lot of reasons I chose CGS. I went to a super small high school and my graduating class had 28 students. CGS's smaller class sizes made me feel as if going into CGS first would help with the transition from my tiny, nurturing, intimate high school to a large college. Also, I've changed my mind about what I want to major in many times. Although I have wanted to do law since I was about 12, I want to make sure I follow the best path for the type of law I want to go into in the future. I like that CGS allows you to explore different options. As of right now, I am thinking I want to do anthropology but that could always change depending on what electives I take. Also as a ballroom dancer, I liked that CGS allows you to travel abroad to London because London has the biggest ballroom dancing competitions in the world. The opportunity to study abroad in London was very appealing to me.
How did you spend your gap semester?
I spent my gap semester practicing ballroom dancing a lot at my studio and competed in a national tournament for ballroom dancing. I also choreographed a production of Chicago for my high school, which was amazing, and took care of a baby as a nanny as well.
How did you decide on what to do during your gap semester?
I have been dancing for 12 years, so all of my free time has been consumed by dancing. When I knew that I was definitely going to CGS, when I got my acceptance letter from BU, I was excited to have time that I could plan out about a year in advance. All the free time I had during my gap semester gave me a chance to learn new dance routines with my dance partner and practice a lot in preparation for nationals. My dance partner and I competed in a national event for ballroom dancing in the category of Latin, international style. My dance partner and I ended up placing first in that event at nationals which was very exciting.
How has the time been valuable to you?
I think the gap semester was a really cool opportunity because I got to be a young adult for a little bit. Also, given that I basically missed a semester of school my junior year because of Covid, being able to spend time back at my high school by helping out with the theater program kind of gave me a little bit of closure. Not being in person at school the second half of my junior year and then doing a hybrid schedule for my senior year, I was feeling a bit overwhelmed at the thought of jumping straight into university. The gap semester gave me a little time to just settle in and by the time it was over, I felt ready and eager to start college. It gave me time to prepare myself a little bit more before going back to school for real.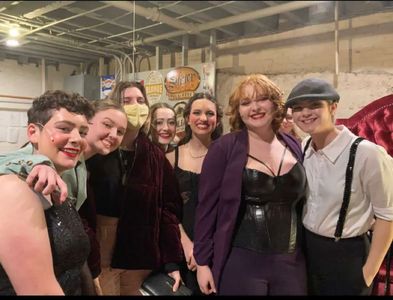 What have been the most memorable moments of your gap semester so far?
The most memorable moments of my gap semester were competing in the ballroom dancing nationals event and the opening night of Chicago at my high school. I still have a lot of friends in my high school's theater program so getting to have one last opening night with them was really wonderful. Also when I was nannying throughout my gap semester, the baby I was caring for took his first steps when I was watching him. That was pretty memorable.
What advice would you give to future CGS students when planning their gap semesters?
I would say that students should use their gap semester to really dive into their hobbies and explore various interests. For me with dance, my gap semester was a really crucial time. I didn't have any conflicts, responsibilities, or obligations so I could really focus on dance, which was really valuable. My gap semester put into perspective just how much I love and appreciate the hobbies that I do.
What were some of the skills you took out of the gap semester? What did you learn?
I learned how to deal with being away from all the friends I grew up with. All of my friends went to school out of state, which was really tough for a while. Learning how to cope with them being away while still being at home with my family support system and dance support system was important. It made me realize that even though my friends aren't with me every day, it doesn't mean we're not going to be friends anymore or talk all the time. The gap semester prepared me for adult life, as you're not always going to go to school with your best friends.
What are you most looking forward to about the next four years?
I am definitely looking forward to my time with the BU Ballroom Team. I'm very excited for that and think it's going to be a really good experience. I've previously met people through the dance community who have been on the BU Ballroom Team and they have always spoken very highly of it. It seems similar to my dance studio, which is very tight-knit and close, always doing things together that aren't necessarily related to dancing. I am really looking forward to that. I also am thinking about how I am going to prepare for law school. I think pre-law advising and taking law related classes, such as Introduction to Law, will be helpful in the future. I am also very, very excited to go to London with CGS. I have a feeling it is going to be a very memorable time in my life.