Cliff Albright of Black Voters Matter Delivers Stanley P. Stone Lecture
By Caroline McCord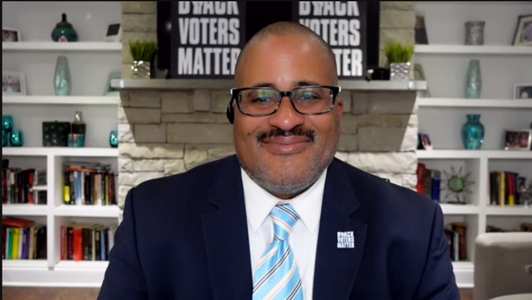 For Cliff Albright, the decision to delve into electoral activism came after he moved to Selma, Alabama, a city deeply intertwined with the civil rights movement. Selma was the location of Bloody Sunday, when police brutally beat peaceful demonstrators as they marched for voting rights in 1965. 
Albright was there during the 2000 mayoral election, when Mayor James Smitherman, a white man who had been in office for 36 years, and whose first term was during Bloody Sunday, was finally voted out. 
"I saw Selma residents crying and dancing in the streets after the election," Albright said. Witnessing how voting was the reason for his community's celebration, he said, is what inspired him to make electoral activism his passion. 
In 2016, Albright and LaTosha Brown co-founded Black Voters Matter, an organization that aims to increase the power of Black communities by increasing voter registration and turnout. 
On Feb. 10, Albright delivered the College of General Studies's annual Stanley P. Stone Distinguished Lecture. The lecture focused on the importance of voting rights, particularly for Black Americans in the Deep South who have historically suffered from voter suppression and lack of political mobilization. 
"Everybody has a role to play in…fighting against voter suppression,"Albright said. "Faint not and do not grow tired, as the seeds of voting rights will be reaped if we stand tall and hold to our power."
Albright explained how the Supreme Court is slowly chipping away at the 1965 Voting Rights Act. He said that last year, 49 states attempted to pass voter suppression laws, with 19 of those states being successful. These laws attacked early voting, mail-in voting, and even in-person voting—all of which give people, especially Black people, power and a voice within our nation. 
In order to combat this voter suppression, Black Voters Matter organizes bus tours, similar in purpose and design to those of the historic Freedom Riders, that go from the Deep South to Washington, D.C. and engage in demonstrations to advocate for voting rights.
According to Albright, "winning" the battle for voting rights means not simply packing the Supreme Court or changing legislation, but challenging and reimagining the very foundations of our democracy.
He said this can be done through asking ourselves and our representatives radical questions about the true meaning of majority rule, the abuses of power allowed by our system, and the prevalence of gerrymandering. Ultimately, Albright said, the key question at stake is how we can make America a more perfect union, and a more reflective and inclusive democracy. 
Although Black Voters Matter focuses on the rights and mobilization of Black communities, Albright said the movement for voting rights benefits all marginalized communities. 
He also emphasized the importance of Black joy, sharing videos from various demonstrations that honored Black culture through singing, dance, and worship. 
"Because the work is so serious, we've got to find the space to celebrate our joy," Albright said. "And at the heart of this work is the belief that we will win." 
Watch Albright's full lecture on the College of General Studies Youtube page.