Seven Questions with Alumna Lauren Weinberger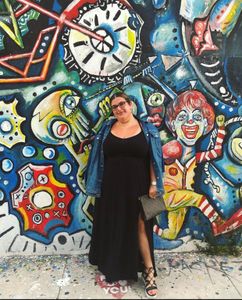 Since graduating from BU in 2017, Lauren Weinberger (CGS '15, COM '17) has launched a successful career in advertising. Before graduation, she was a CGS Dean's Host, a member of the Hillel student board, and an active student in COM organizations. We spoke with Lauren about her CGS foundation, how she found her career path, and her goals for the future.
What have you been doing since you graduated from BU?
Since graduating from Boston University, I've worked at three different companies doing advertising, and I've been at each place about 18 months, so I've moved around a bit. I recently started a new job as a senior account executive at FCB Health in New York City, so it's been interesting starting during quarantine and working remotely, but it's still been great meeting new people and getting settled at a new company.
Why did you choose that pathway?
I went through CGS always knowing that I wanted to continue into COM. I was a Public Relations major and always had PR internships, and I especially loved an event through COM called Pro Bono, in which students were given an assignment by real clients and had 24 hours to make a PR plan to present to those clients. The alum mentor responsible for our team was a strategist at Hill Holliday advertising, and she later pulled me aside to tell me that I belonged in advertising and gave me her card if I ever needed anything. When I met up with her for coffee just to say thank you, she told me to apply for an internship at her company, and after a few rounds of interviews, I got the job. On the first day, something clicked and I knew that was where I was meant to be. I loved my foundation of PR and I think that it really helped me develop skills for my career, but everything really just clicked when I started in advertising. I applied only to advertising agencies after graduating, and I knew it was what I was meant to do.
How did your time at CGS help prepare you for what came after graduation?
For me, the key to CGS was building a rapport with my professors as well as reinforcing my confidence in asking questions and not being afraid to speak to someone older or "superior." I was always someone who was comfortable speaking with people, but I know that was hard for a lot of my classmates, so because those qualities were so key to success in the CGS program, it normalized that for me. In my post-grad years, I have never been afraid to speak up in meetings or give my opinion to managers because it was so ingrained in my CGS experience. Capstone was definitely another part of CGS that prepared me for post-graduation work. Conflicts arise and you have teammates that you may or may not know well, and those are key parts of my everyday job now, so going through that in CGS was great preparation for my current job.
What are your goals and aspirations for your career?
I want to keep progressing along my current career path in advertising, and I also want to work in brand marketing in some capacity within a brand that I value. In terms of other goals in my career, I want to become a mentor to help recent graduates navigate their paths. I have been very fortunate to have had amazing mentors in my short career so far, and it's really important to me to be a mentor both in my job and outside of it. I also really want to get my MBA in marketing or strategy at some point; I wanted to get some experience in the industry before going straight to grad school, but that is a goal I have for my future.
What extracurriculars, internships, or other out of the classroom experiences were most valuable to you as a CGS student?
I was a CGS Dean's Host, which I loved. I did and still do care about CGS and wanted to share my positive experiences with prospective and admitted students. It was important to me to offer my insight into the program and express why I loved CGS so much, so being a Dean's Host was a great part of my experience. I was also on the Hillel student board every year and was part of a sorority (Tri Delta), both of which allowed me to be tied to a community outside of CGS. I was also involved in PR Lab and the Pro Bono event in COM, and I interned at an advertising agency during my senior year.
What was your favorite part about your CGS experience?
Most of my closest friends from school who are still my best friends were in CGS, whether we were friends during CGS or didn't meet until after, so that was definitely a highlight. I loved that the classes were smaller and you could build a rapport with your professors, and office hours were really important to me so I could really get my professors' insight and build more personal relationships. I didn't want to be a number; I wanted to be Lauren with all of these other things that I have to offer.
If you could give one piece of advice to current CGS students, what would you say?
Your professors and your deans are there to help you, and my best piece of advice would be to foster relationships with as many of them as you possibly can. They just want you to succeed, and those relationships will transcend your time in CGS and are so valuable even after graduation. I still email with Professor Varat and speak to Dean Godnick very often, so make the most of those relationships. My other piece of advice would be to get involved in as much as you can, both within CGS and at BU in general. You might be like me and stumble into your future career, or meet your best friend, so this is the time in your life to say yes to as many things as possible because there will be a point where you can't say yes anymore. Take advantage of it!
— Compiled by Sarah Eckerson