CGS students tackle big issues in social impact internships
Amid a global pandemic and a historic call for racial justice this summer, Boston University College of General Studies students spent their summers fighting for meaningful causes, from combatting climate change to getting out the vote. Here's how four CGS sophomores spent their summer making a difference, while also gaining meaningful real-world job experience.
Combatting Climate Change and Racism at

The Years Project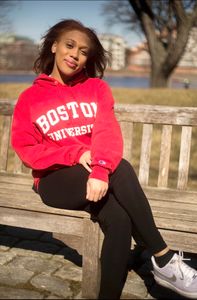 Nyah Jordan (CGS'20, CAS'22) interned with the Years Project, an educational platform that produces content to inform people about climate change. Some of her internship responsibilities included writing blog posts, transcribing interviews, conducting research, writing tweets, writing scripts for videos, editing YouTube videos. 
She says that the internship has been particularly meaningful to her because of the importance of the work. "Climate change has often been ignored or labeled as a lesser issue," she says. "While there has been more attention to this topic in recent years, climate change has had a devastating impact. Also, environmental injustice and racial justice go hand in hand because they're both rooted in racism, and they were hurting Black, Indigenous, and people of color all across the United States. For me, fighting against environmental injustice is one of the core steps in fighting racism."
Advocating for the Disenfranchised as a Legislative Intern
Haleigh Drew (CGS '20, CAS '22) spent the summer after her sophomore year as a legislative intern in the office of Massachusetts State Senator Sonia Chang-Díaz. Her work includes data entry, drafting constituent letters, tracking the Senator's press hits, assisting staff with legislative briefings, and working to understand current Massachusetts legislation to ensure it is reflective of the Senator's beliefs.
She says that this work is important to her because of the pivotal time the country is currently in. "The Black Lives Matter Movement is getting attention that has been long overdue, we are in a global pandemic and it's a Presidential election year. It's important that people in a position of power advocate for groups who have been historically disenfranchised and I am grateful that Senator Sonia Chang-Díaz and her staff are teaching me how to harness this skill through policy crafting," Drew says.
Building Career Skills at

Jewish Vocational Services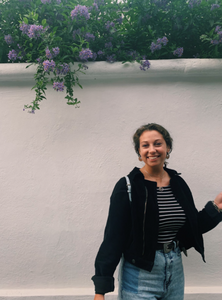 Maddy Zakin  (CGS'20) spent her summer interning remotely with an organization called the Jewish Vocational Services that works to help immigrants or non-native English speakers get professional jobs in Boston. She found this internship with the help of her advisor and through BU Handshake. Her job is to assist prospective students with the application process by reaching out to help them and send reminders about the next steps. She also prepares PowerPoints for different workshops on topics like how to write a resume or fill out an official government form.
"To me, being able to be a part of helping someone to get a career and feel confident in new skills is just so rewarding," Zakin says. "Additionally, this internship has shown me how my major, sociology, and some of the ideas that I have been learning in the classroom materialize in a real-life, setting which has been really important for me in thinking about what to do after I graduate."
Getting out the Vote with Student PIRGS 
Niamh Stull (CGS '20) interned with Student PIRGS, an organization that teaches young people how to run successful grassroots campaigns. One of her main tasks is working on their New Voter's Project, which has a goal of increasing the youth vote for the 2020 elections. She worked alongside eight other BU students to increase voter participation on BU's campus. Her other responsibilities include attending trainings where she learns political organizing skills such as phone banking, and meeting with people. She found this internship by researching politically-oriented non-profit organizations on BU Handshake.
She says her favorite part of the experience has been collaborating with different members of the BU community. "There are nine BU students interning with Student PIRGs this summer and together we have been able to meet with representatives from BU Student Government, the Dean of Students Office, the Community Service Center, professors, and Residence Life. It is exciting to see so many members of the BU community passionate about increasing BU's voter engagement."
Did you spend the summer interning at a nonprofit, political campaign, or other social impact job? Email us at cgscomm@bu.edu to share your story!