My CGS: A Q&A with Tyler Davis
Tyler Davis (CGS '20, COM '22) spent her gap semester pursuing her passion – film. An internship with the San Francisco International Film Festival turned into an opportunity to have one of her own short films played at the festival – all before she continues on into the College of Communication to study Film and Television. We spoke with Tyler about her internship, what it was like to know her film had been chosen for the festival, and the trip to Ireland that kicked it all off.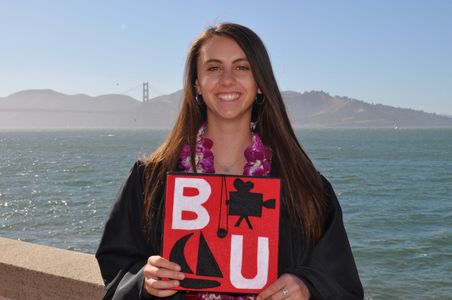 How did you decide that interning at the San Francisco International Film Festival was how you wanted to spend your gap semester? What appealed to you about the opportunity?
Going into the gap semester, I didn't have a clear plan on how I wanted to spend it, but I did know that I wanted to work on something related to film. I researched film internships in the Bay Area and that's how I discovered the San Francisco International Film Festival. I was very excited to get hired because SFFILM has great connections in the film industry and hosts incredible filmmakers from all over the world every year, including during their annual festival. It's an amazing organization, and I knew I was going to be able to get a lot out of the experience.
What was a typical day at your internship like?
I had several different responsibilities as an intern, and every day was a little different. During the week I helped teach stop-motion animation to a 5th-grade class at Jefferson Elementary School in San Francisco. The kids learned the basics of storytelling and then developed their own film, which they brought to life using paper cut outs and an adorable narration. I also worked in the SF Film office researching potential family-friendly short films for the festival to screen during their animated shorts section. I watched a lot of animated films and rated them for age appropriateness. On the weekends I helped host film screenings, mostly of documentary films. I assisted in documenting the film screenings, facilitated live Q&A with the directors and filmed interviews with the artists. Hosting these events was very rewarding because I was able to spend a significant amount of time with the artists, who were from all over the United States as well as different countries like France and Italy.
What were some of your favorite experiences during the course of the internship?
Working with the 5th graders at Jefferson Elementary was very exciting and rewarding since they were all able to work together to create a pretty impressive short film by the end of the class. The majority of the students were new to the art of film storytelling, and it was touching to witness how their excitement for their project progressed as they spent more and more time on it. I really hope some of them were inspired by the experience.
You've been interested in film for a long time. Can you tell me about the artists residency you participated in the summer before your gap semester?
Throughout high school I participated in three very different summer programs, one at CalArts in LA, another at Northwestern in Evanston, IL, and an independent residency at Cow House Studios in Wexford, Ireland. I had a transformative experience at CalArts that really fueled my interest in film as a career. Northwestern was an intensive program in which I learned, in detail, about the different roles in film productions. Living in Ireland was definitely the most challenging, however, because it was the first time I was alone with the film camera. I tried a new, experimental form of filmmaking that was very personal.
Tell me about the film you made there.
I made a three-minute short film titled Farewell, inspired by my feelings about leaving home and moving on to college in Boston. I filmed myself on a tripod and played with mirrors and my reflection in order to create different illusions. I then added a voiceover of a poem that I wrote, describing the different memories and experiences that shaped my childhood. I was very proud of the final video since I really struggled working on such an intimate project. A few months after finishing, I submitted it to the Youth Shorts section in the San Francisco International Film Festival, and to my surprise it was accepted!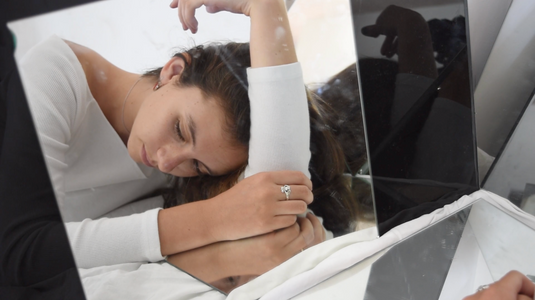 When you were interning, did you plan to submit your film to the festival? What made you decide to submit?
I did not plan on submitting my film to the festival, especially since it was so personal and experimental. I was actually encouraged to submit by my boss, Hillary. She said they usually receive a wide range of submissions and look for a diversity of style.
What was it like to be featured at the festival?
When I got the news, I was overjoyed and just really honored to have my film selected. The festival happened in April, so I unfortunately didn't get to go since I was in school in Boston, but my family and some friends were able to see it play at the Roxie Theatre in San Francisco. I get excited just imagining my short film playing in a local SF theatre. It's so cool because a few months earlier I had been hosting screenings at the Roxie Theatre for established documentary filmmakers and now my own film has played there as well.
What are your favorite parts about filmmaking? What do you find the most challenging?
I absolutely love directing and editing because it is the part of the filmmaking process that brings the story to life. I've had the director role on a couple different projects so far and it is definitely a challenging role that comes with a lot of responsibility. Directing can be difficult since you are trying to accomplish everything you envisioned during the pre-production process. I feel like I am able to express the most creativity when I am on set.
Are you hoping to pursue film in the future? What are your plans for after finishing your sophomore year at CGS?
I do hope to pursue film in the future and after CGS I plan on transferring to the College of Communication to major in Film/TV. I love film but I still need to figure out what I want to do in film, so I will get the chance to figure that out in COM.
What opportunities did your gap semester give you that you wouldn't have had otherwise? How did that internship prepare you for college?
The gap semester was absolutely a gift in disguise. I felt a little left out and lost at the beginning of the semester since my friends were all leaving for college. Once I got an internship with SFFILM, however, that all changed and I started appreciating the opportunity. It's an amazing (and surprisingly short) time to focus on things that you are interested in and commit to something new and unrelated to school. The gap semester gave me a lot of confidence that I could succeed in the future, maybe with film.
What advice would you give to current and future CGS students about how to make the most of the gap semester?
Focus on something that you are interested in, new or existing, during the gap semester and get as involved in it as possible. It's the first time in which you have the freedom to explore whatever you want before you go back to school. It's also a great time to reflect on your life and how you may want to improve moving forward onto college. Having a longer transition between high school and college was definitely rewarding for me, and I am very happy I had the chance to work with SFFILM.
What's next for you in pursuing your passion for film? Do you have anything planned for this summer?
I'm really excited to work on more projects in my upcoming production classes in the College of Communication. I am also currently a pledge in BU's professional film fraternity, Delta Kappa Alpha, which has introduced me to an incredibly driven group of film students on campus. This upcoming summer, I am doing a directed study with the amazing Dean Natalie McKnight that is focused on women filmmakers. I plan to study films written and directed by women in order to identify the unique characteristics of films made by female directors and creators. I will be creating a film at the end of the study inspired by my research.