Madeleine Salman (CGS'20)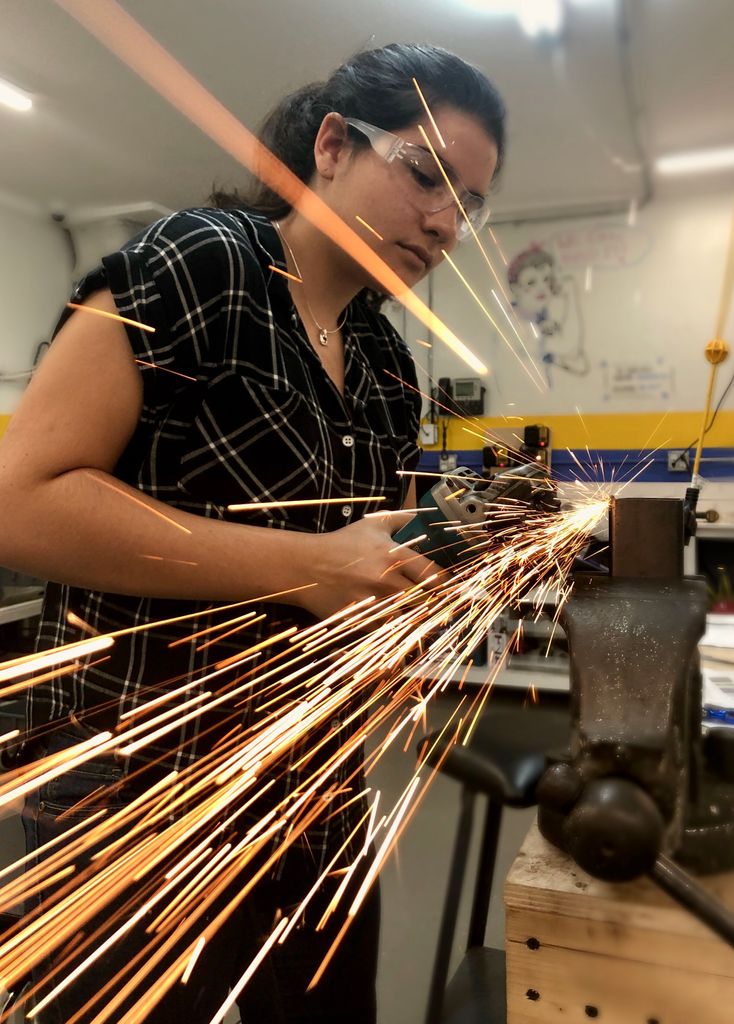 Tell us what you did during your gap semester!
During my gap semester I worked two jobs and took some classes for electives at my local community college. For one of my jobs, I managed a makerspace because my high school  has been trying to promote engineering and other STEM majors. It was interesting transitioning from student to faculty.I would definitely say working at the makerspace was rewarding because I was able to help students with projects and connect with them on a deeper level as a recently graduated student. My other job was at the local ice cream store, and it was really fun because it was nice to get closer to my community.
You started a local renewable energy project while you were in high school and you were able to finish it during your gap semester. Tell us more about the background of the project. How did you get started?
A couple of years ago, I noticed that my city, Coral Gables, Fla., was doing an extensive renovation of its downtown business district. I was inspired by an environmental studies class I was taking at the time in high school. My teacher's mantra was "any difference, even a small difference, is a difference." I wanted to see if the city would incorporate some sort of renewable energy initiative into the renovation as a way to engage residents with environmentally friendly practices. I had seen solar powered cell phone charging stations in other places and so I approached my City Commissioner, who was also my neighbor, about my idea. He encouraged me to present my plan and my reasons before the city commission, which I did. Then I began the process of making arrangements with the city board and presenting for the Chamber of Commerce. It was an amazing experience because I was able to be a liaison between the companies we were contacting as possible partners and City Hall.
What was the end result?
To make a long story short, after two years of working with the city's sustainability committee, there are now eleven solar-powered charging benches in public parks where I live, and more are coming. The benches offer residents free-wifi, a renewable way to charge their devices (especially during power outages and natural disasters) and hopefully a way to learn more about the benefits of solar power. My project was called "The City Beautiful is Solar Beautiful," and I am really proud that it is finally finished.
How long did the whole process take for your solar-powered benches to be implemented?
The whole process took about two and a half years. Most of the work was done during my senior year.  I was a really busy student at the time but the city commissioner and I would meet regularly every three months to talk about the status and meet with any additional advisors to make sure everyone was on the same page. I was finally able to finish during my gap semester.
Are there are any tips or unexpected things you learned from the process of the renewable energy project?
I learned how important communication is as a professional skill, such as emailing local officials and corporate representatives. The project also taught me to advocate for something I am passionate about. I learned that I have the agency to affect change.
Is there anything you would recommend other students think about as they plan their own gap semester?
As students plan their gap semester, I would tell them to think about their long term goals for college and career goals so that their resume can ultimately benefit. Also have fun in the short term because even though you are not in school, it is still your freshman year. Try not to focus on what you could be missing out on and spend time on peer experiences. Enjoy what you have in your hometown as well because you are going to miss it when you leave.
–Interview by Steven Silvio (CGS'17, COM'19)