Student Life in the Boston-London Experience
Student life in the Boston-London Experience is a little different from typical Boston University campus life. Instead of swiping a Terrier Card at a BU dining hall, students fill up grocery carts at nearby supermarkets and cook meals together in the dorms. Instead of taking the BU Shuttle down Commonwealth Avenue with a Charlie card, they take the London Tube with an Oyster card. And instead of strolling through the Boston Common, they're a short walk away from Hyde Park and Kensington Gardens.
Students live in one of three furnished, residence-hall style buildings in Boston University's London programs: Courtfield Gardens, The Crofton, or Sorbonne House. The residences are located near to Gloucester Road and South Kensington tube stations.
All residences are within walking distance from each other and major local landmarks, such as the Natural History Museum, Hyde Park and the Royal Albert Hall. You can find more information about the local area in this guide.
Studying
Students can study in several locations in BU London Housing: kitchens include a couch and multiple tables and provide a nice space to work. The Crofton computer lab and study room has several tables for larger groups of students to work. Rooms do not contain desks; however, residences contain study areas and classrooms that are open to students outside of regular teaching hours.
Many students also enjoy working outdoors, such as in Hyde Park. Boston University London also has a library—open for extended hours—where students can study, print papers, and get study support from a team of Writing Fellows, all completely free of charge! More information, such as how to book appointments with the Writing Fellows to suit your schedule, will be provided at the start of your program. An overview of the service can be seen here.
Dining and Cooking
You will be sharing a kitchen with 10-12 other students – each kitchen is equipped with large refrigerators and freezers, two ovens, stoves, microwaves, lots of pantry and counter space, and all of the crockery and utensils that you will need. Students often choose to cook and dine together, which helps build a sense of community.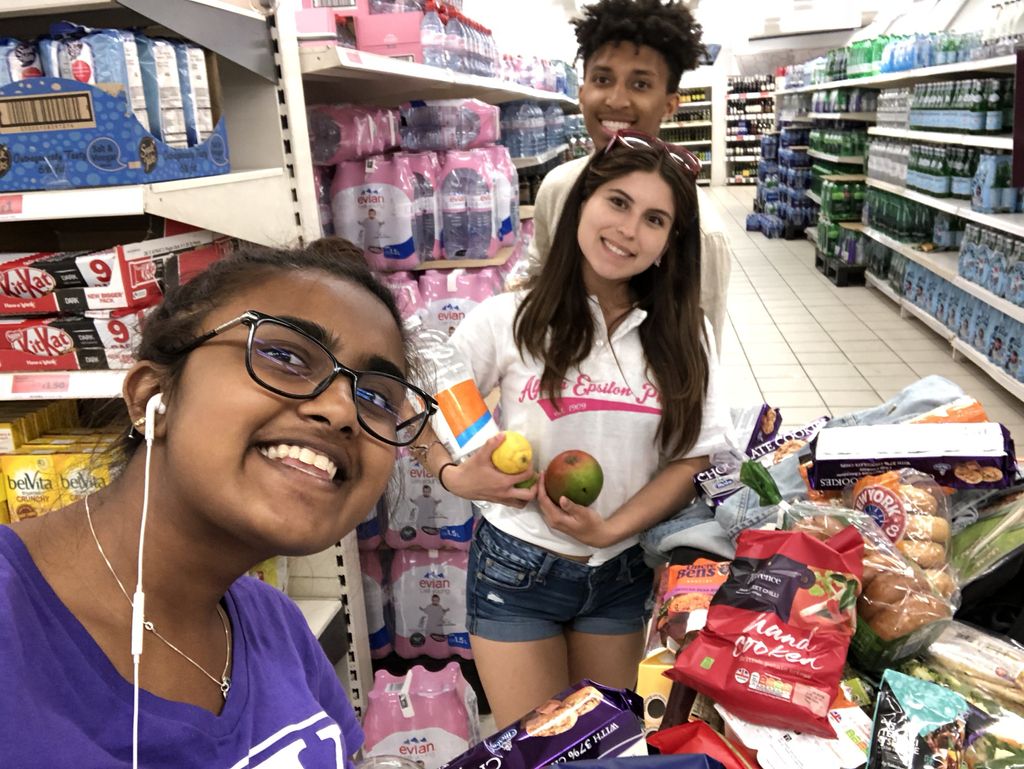 Students shop for food at nearby grocery stores like Sainsbury's, Waitrose and Tesco. Some might initially be intimidated at the thought of managing their own meals, but many find that they like the challenge. Joshua Creelman (CGS'18, Questrom'20) says becoming more independent was one of the most valuable things he got from the London semester. Having to cook and shop for food and get around, "really helped me to be a little bit more self-sufficient. Also my cooking skills got marginally better! Not great but a little bit better." Of course, sampling London's amazing food is always an option, too.
Residence Rooms
The large majority of rooms are triple and quad rooms, so expect to be sharing with more than one roommate. Rooms come with pillows, sheets, a mattress topper, and duvet for the bed, and are equipped with closets with hangers and several drawers for storage. Towels are not provided but many students choose to purchase these after they arrive, to save space in their suitcase. Each room has a bathroom with a shower, and laundry machines are available in the building.
What to Pack
Students and staff advise that you resist the urge to overpack, but a raincoat and decent walking shoes are a must. The average temperature in London during the summer is in the mid 70s, but the weather is notoriously unpredictable and it can rain at any time of year! A power convertor is essential since UK outlets are different from the United States, but please don't bring a hair dryer or straighteners from the US as these can cause fuses to blow even if using a convertor. If you have prescription medicine it is a good idea to bring a sufficient supply for the duration of your trip.
—Thanks to William Kiernan and to the Boston University London staff for assistance with this post .
Learn more about the London semester in our other posts about courses and assignments, advising, and exploring London and the United Kingdom.