Wexelblatt's Petites Suites Stories Merge Music and Fiction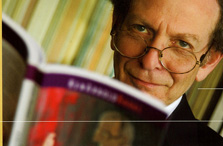 Petites Suites is the latest book by College of General Studies Professor of Humanities Robert Wexelblatt—a series of charming, inventive short stories praised as "enchanting, invigorating, and often delightfully disorienting" (Elizabeth Cunningham), "sweets for the ear and food for the brain" (Robert Knox),  and "enticing" (R.S. Deese). 
College of General Studies: You came up with the structure for Petites Suites while you were listening to Debussy's Petite Suite. The music gave you the idea of combining the suite's structure—short movements with loose thematic connections—with storytelling. How did you carry that musical inspiration into the book?  
Robert Wexelblatt: When I began, there was no thought of writing a series of suites, much less a book of the things.  The first suite was a one-off experiment titled simply "Petite Suite."  My object was to make a suite out of brief, brisk narratives resembling the movements of the French compositions that were my model.  I gave each of the little stories in the suite fanciful but relevant musical titles, in French, and indicated the instruments that would perform them.  I hoped the result would be an attractive hybrid of fiction and music.  I was trying for something in fiction that would share some of the lively, tuneful, witty, and sardonic qualities of the little French suites that I see as ripostes to the serious, ponderous, solemn, sometimes bombastic and elephantine German music of the time.  As Debussy's or Fauré's little suites are to, say, Wagner's Ring or Bruckner's symphonies, so these suites are to the five-hundred-page novel.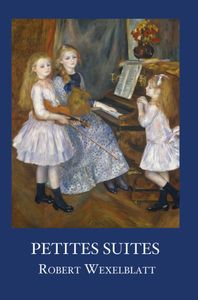 CGS: The name of a piece of music appears at the beginning of each story. How does the music you choose relate to the story—in structure, theme, or otherwise?
Wexelblatt: As indicated above, the titles are intended to be whimsical yet pertinent.  They can also be ignored by those who don't know French or don't want the bother of translating them.  But they are there for a reason.  In addition to functioning like any title, they also indicate the tone and spirit of a story, its key (major or minor), and the sort of ensemble performing it, dictated by the number and nature of the characters in the story—characters like violins, bassoons, flutes; duets, quartets, overtures, etc.  My model for the titles is Erik Satie, a composer who excelled at fanciful titles.  Here are some translations:  "Sketches and Snares of a Large Wooden Fellow," "Dried-out Embryos," "Three Pieces in the Form of a Pear," and the charming Sonatine Bureaucratique, which needs no translation.  I wanted titles that were similarly unexpected, fanciful, and amusing but at the same time revealing about the stories they head.
CGS: What are some of the rules of writing that you impart to your students and that you follow (or perhaps bend or break!) in your own fiction writing?
Wexelblatt: I don't teach writing and certainly not fiction writing.  But, when I'm able, I do try to improve my students' writing.  For example, if a sentence has grown too long, I suggest making it into two sentences.  I advise students who like to start their papers with phrases like "From the beginning of time…" to try beginning instead with something concrete – or with the second paragraph after tossing out the first one.  Some students have difficulty developing their ideas. I may suggest they play the role of an annoyingly curious child to themselves by asking "Why?" after every sentence, then answering, until the question's exasperating, when it's time to begin a new paragraph.  I beg students not to write reports.  Reports are dead, like annual reports.  Reports are dead, but essays are alive.  I'll remind them that the word "essay" is French and means neither more nor less than "attempt."  It's a good thing to see writing as an attempt to understand something you haven't already figured out.  Constraints can be productive (think of the sonnet) and it's good to have rules (a thesis stated early on can be convenient).  Rules are good even if it's only in order to have something to break.  I recommend a lot of "for instances" – the concrete illustration or anecdote will sometimes wake a reader up.  While it's good to be cognizant of your audience, it's bad to be paralyzed by that awareness.  If students can trick themselves into believing that what they're writing is for themselves and not the person grading it, the grade is likely to be higher.
CGS: You have been writing and publishing "Petite Suite" short stories for several years now: "Petite Suite Printanière," "Petite Suite au Hasard," "Petite Suite Impropre" … Why do you find yourself coming back to this form, and did the book come about as a compilation of those stories? 
Wexelblatt: It's true, and this returning to certain forms isn't limited to the suites.  For the last couple of decades I've been compiling three cycles, one item at a time.  One is a group of stories about an imaginary Chinese peasant/poet of the Sui period—each story has one of Hsi-wei's poems in it and the narrative accounts for the verses.  Another is a series of essays by an imaginary thinker named Sidney Fein who died in 1984 and wrote of all sorts of things, mostly in the form of essays, sometimes punctuated with verse or fictions.  These will be collected in a book due to appear next year.  The third cycle is made of these petites suites.  All three cycles began as one-off experiments.  But something about each of them proved alluring, addictive, productive or, as they say, generative.  I kept returning to my Chinese poet, the defunct intellectual, teacher, and father Fein, and to the liberating musical/narrative form of the petite suite.  I suppose these experiments suited me, though I'm not sure why.  On the other hand, I am sure they record ideas and verses I wouldn't have written without my imaginary authors while, without the form of petite suite, I'd never have thought up all these little tales.
Apropos:  when I corrected the final proofs of Petites Suites at the end of August, I figured the form and I were finished with one another.  But apparently this isn't so.  To my surprise, there have been two more suites since the book came out.
Readers can read a preview of Petite Suites and purchase the book at Blazevox.org.