Six CGS Alums Inducted into Scarlet Key Honor Society
This fall, several College of General Studies alumni were inducted into the Scarlet Key Honor Society for their phenomenal leadership in Boston University organizations and activities. The Scarlet Key Honor Society at Boston University was founded in 1938 as a society that commended students for their involvement in organizations and activities in their individual school or college. The selection process is based on their leading commitment and involvement in student clubs and activities during their time at Boston University.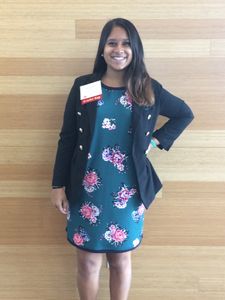 Anushka Pinto (CGS'15, CAS'17) has exemplified a dedication to leadership through her various roles at the university. During her time at CGS, she held many leadership positions including sophomore senator on the CGS Student Government executive board. She was also a Dean's host and a CGS student advisor for orientation. Anushka has continued onto BU College of Arts and Sciences, where she has proceeded to become editor-in-chief of the International Relations Review, one of BU's premier academic journals. Anushka says she is honored to have been recognized for her leadership and she hopes she has left a legacy at CGS and BU.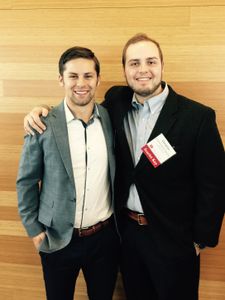 Similarly, Chad Bell (CGS'15, Questrom'17), continues to lead amongst his peers. Currently, Chad is in Questrom School of Business, studying finance with a specific interest in investing. As student senator during his junior year, Chad represented student-athletes on campus and helped with the transition to the new student constitution.  He is part of the captain's council for the Men's Lacrosse team, where he runs the community service activities with Christian Carson-Banister (CGS'15, CAS'17), another Scarlet Key inductee and outstanding student-athlete and leader. Like Chad, Justin C. Flynn, (CGS'15, Questrom'17) has continued onto Questrom, where he is concentrating in finance. He balances his time as vice president of finance on the BU Student Government and as captain of the BU's Men's Track and Field Team. He is also the co-coordinator for Brothers United, a community group run from the Howard Thurman Center.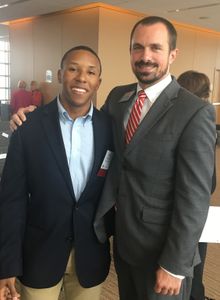 Conor Rault (CGS'15, CAS'17) is a member of CGS' Dean's Host Executive Board and serves as a student advisor for current CGS students. He currently serves as an operations assistant at the George Sherman Union. Lastly, Hallie Armstrong (CGS'15, Wheelock'17) is studying English education. Hallie balances her duties as captain of the Varsity Cross-Country and Track and Field teams along with a teaching job at Bigelow Middle School  where she teaches two eighth-grade English classes. She also participates in the Janssen Leadership Academy, run by BU Athletics, where she receives feedback on her leadership skills and guidance to help her develop her leadership abilities.
Members of the Scarlet Key Honor Society are voted in, or tapped, by existing members and are nominated by BU faculty and staff. Eligible candidates are about to begin their senior year. These CGS alums and Scarlet Key Honor Society members have dedicated tremendous time and effort to these student organizations. Their continuous involvement and commitment will not go unnoticed as they complete their time here at BU. CGS faculty and staff thank these students for their leadership and wish them continued success.