CGS Recognizes Alumni Achievements
At the 60th anniversary celebration of Boston University College of General Studies, CGS recognized Lucy Halperin Zaro (CGS'75, Questrom'77) and Dr. Lawrence Nichter (CGS '71, CAS '73, MED '78)  with CGS Alumni Achievement Awards.

Lucy Halperin Zaro is the first female President/CEO of Tee Pee Olives, a third generation family-owned business with over 70 years of experience in packing and distributing olives and olive oil. Since assuming the presidency of Tee Pee Olives/Italica Imports, Halperin Zaro has been credited with invigorating the company's brands through research and development and the introduction of health-conscious and organic products.
Lucy serves on the Boston University Overseer Board and has truly enjoyed interacting with professors and other alumni as she deepens her understanding of what a remarkable institution Boston University is. In addition, Lucy serves as the sole trustee of the Richard E. Halperin Memorial Foundation. The foundation has made grants to numerous organizations, including Boston University, Rye Country Day School, Citizens Budget, American Friends of the Hebrew University, and the Jewish Community Center of Harrison, New York. The Richard E. Halperin Memorial Foundation is now focused on the renovation of the Harrison, New York Library, renamed the Richard E. Halperin Library in 2008.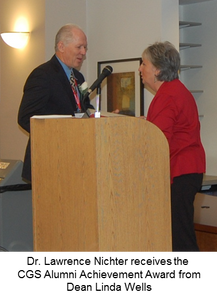 Dr. Lawrence Nichter (CGS '71, CAS '73, MED '78) is from a BU family.  His mother received her Doctorate of Education, and his sister, Susan, received degrees from the College of Fine Arts. Larry attended CGS, CLA and BUSM. Currently he is a Clinical Professor of Plastic Surgery at USC and UCI, Chairman, Department of Plastic Surgery at one of the largest hospital departments in the world, and President and Founder of Plasticos Foundation. The latter is a non-profit institution that trains surgeons while repairing children's deformities worldwide. He has been on 60 oversees missions thus far and a documentary about one of his trips won an Academy Award. Every institution that Lawrence Nichter has received a degree from has distinguished him with special honors including University of Virginia presenting an annual research award in his name, UCLA giving him an outstanding resident award, and BU College and Graduate School of Liberal Arts presenting him with an outstanding alumni award in 2009.