The Dictionary of Christian Biography in Asia Online Launch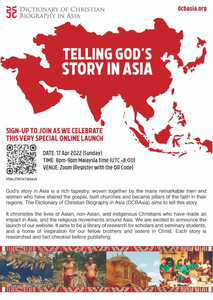 On March 1, 2022, the DCBAsia team started a free online website -Dictionary of Christian Biography in Asia (
dcbasia.org
). They began by posting 56 stories of Malaysian and Singaporean heroes and heroines. They have another 120 stories which will be uploaded in weekly installments. The initial response has been overwhelming.
Their soft launch is on April 17th, 2022, (Sunday) at 8.00 pm Malaysia time (UTC +8.00) through Zoom (see flyer).
The DCBAsia team invites scholars to participate in the launch and also to collaborate in this project. They seek regional representatives in different parts of Asia to join their budding team to collect stories that will inspire and instruct believers in their walk with Christ. If you are interested to explore further, please write to Dr. Tai Kim Teng, DCBAsia Executive Director,
tai@dcbasia.org
.