IMC Centenary Conference: Dana Robert's Lecture and North American Panel
The IMC Centenary Conference concluded on Thursday, November 18th, after three days of virtual gatherings. The program included eight regional presentations on the history of missional collaboration and three public lectures.
Dana Robert delivered one of the three public lectures to the global, virtual conference attendees. Her lecture, "What happened in Lake Mohonk and its outcome," detailed the individuals, events, and movements that led to the founding of the IMC at Lake Mohonk, NY, in 1921. Dr. Robert highlighted innovative and forerunning mission themes and commitments evidenced in the work, relationships, and words of the early IMC.  We will post the lecture for public viewing once it has been made available.
---
North American Regional Contribution
Following Dr. Robert's lecture, a panel of Executive Committee members from the North American Study Process on Missional Collaboration offered a regional presentation reporting on aspects of the history, research findings, and early observations.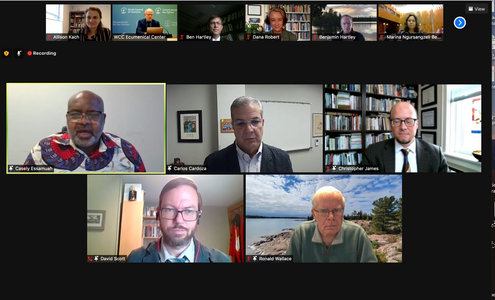 The panel was introduced by Dana Robert and moderated by Rev. Dr. Casely Essamuah. Dr. Ben Hartley offered a short lecture on the history of John R. Mott. Dr. Carlos Cardoza-Orlandi, Dr. Ronald Wallace, Dr. Christopher James, Dr. Julie Ma, and Dr. David Scott presented unique aspects of the study's findings to date. Mr. Andy Mott, the grandson of the late John R. Mott, attended as a special guest and offered words of reflection and gratitude. Dr. Essamuah concluded the presentation with a summary of initial findings for ongoing reflection.
The North American panel was one of eight regional presentations that included reports from New Zealand, Latin America, Asia, the Caribbean, the Middle East, Africa, and Europe. The Study Centers and their research are a part of the ongoing IMC Study Process on Missional Collaboration. Findings from the eight regions will be presented to the WCC General Assembly 2022 and published later for a broader readership. The CGCM will post details as they are available.