The International Missionary Council (IMC) Centenary Conference Public Sessions, November 16-18, 2021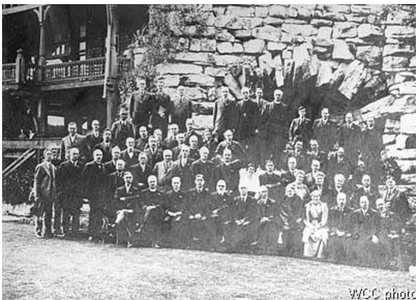 THE IMC CENTENARY CONFERENCE 2021
The global ecumenical online conference will last for three days, Nov.16-18, and feature three public webinars and eight regional sessions.
The public lectures/sessions are as follows:
Public Session #1 – November 16th, 7:45 am – 8:15 am EST. Lecture by Marina Ngursangzeli Behera, "From the Margins of the IMC," followed by a Q&A.
Public Session #2 – November 17th, 9:30 am – 10:45 am EST. Lecture by Dana Robert, "What happened in Lake Mohonk and its outcome," followed by a Q&A.
Public Session #3 – November 18th, 10:30 am – 12:15 pm EST. Panel Discussion, "The past, present and future of cooperation in mission of World Christianity" with participants Heather Robinson (CWME), Dianet Martinez Valdez (WSCF), Paul (Sinwoong) Kim (Korea/diaspora), Mary Wanjiku Kihuha (Kenya/Africa), and Valdir Steurnagel (observer/ "rapporteur").
To attend these sessions, use the same Zoom link to register and attend: https://us02web.zoom.us/meeting/register/tZEvduGqqzspG9TVxUlreigXp_Tg23LX_AKD.