Dana Robert to Speak on "Constructing World Fellowship" at Knox College, Toronto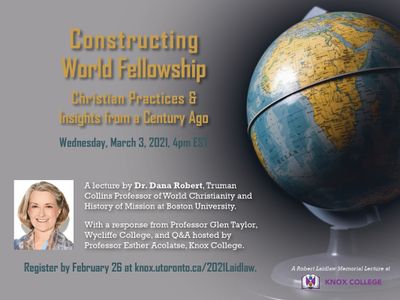 On March 3, CGCM Director Dr. Dana Robert will give a public lecture entitled "Constructing World Fellowship: Christian Practices and Insights from a Century Ago" at Knox College, one of the member colleges of the Toronto School of Theology. The event will take place from 4:00-5:30pm EST. The event is free, but registration is required by February 26.
Professor Glen Taylor will offer a response to Dr. Robert's speech, and Professor Esther Acolatse will be the moderator of the event. She is also a member of the editorial board of the Dictionary of African Christian Biography, one of the digital projects of the CGCM.