Michel Chambon ('19) Appointed Research Fellow at National University of Singapore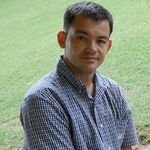 Dr. Michel Chambon, who earned his PhD in anthropology from BU in 2019, has recently been appointed a Research Fellow at the Asia Research Institute at the National University of Singapore. As part of his work on "Religion and Globalisation," his research will focus on Chinese Christians and Asian Catholics.
Chambon is the author of Making Christ Present in China: Actor Network Theory and the Anthropology of Christianity (Palgrave Macmillan, 2020). The work focuses on material culture and uses actor-network theory to investigate the development of Christianity in Nanping, China.