(left to right: Todd Johnson, Dana Robert (CGCM), and Ken Ross)
Civilitas is a new organization that seeks to encourage evangelicals to have important conversations about difficult topics. It is born out of the initiative of the Rev. Doug Birdsall, former president of the American Bible Society and the Lausanne Movement. Birdsall was motivated to start conversations after the white-supremacist Dylann Roof killed nine innocent people at Emanuel African Methodist Episcopal Church in Charleston, South Carolina on June 17, 2015. Birdsall was saddened, outraged, and disturbed that black men and women could not feel safe in their own churches.
He brought together Christian pastors and academics from diverse backgrounds to have conversations about what happened and how to heal. This effort led to the foundation of the Civilitas Group.
A number of the CGCM's members and affiliates were present at the recent founders dinner in Boston. It was a very well attended event, which bodes well for the future of this important organization.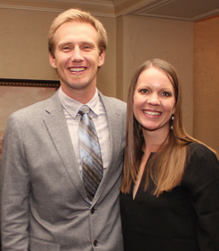 Tyler (CGCM) and Julie Lenocker
The Civilitas Group is still getting started. More information can be found in an article in Gordon College's The Bell: http://stories.gordon.edu/dialogue-in-action-gordon-student-scholars-and-the-civilitas-group/.