Mission as Development? – The Case of Thailand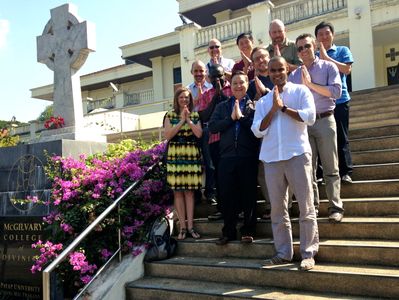 In the last few decades, Christian development has grown so rapidly in some quarters it is almost synonymous with mission. Earlier this year Dr. Todd Johnson led a residency study on religion and development in Chiang Mai, Thailand. Dr. Johnson was assisted by CGCM student associate Eva Pascal. The residency study is part of the World Christianity Doctor of Ministry program through the Gordon Conwell Theological Seminary.
The team of teachers and D.Min. students spent an intense and rewarding two weeks visiting over 20 non-governmental and faith-based organizations in various parts of northern Thailand. These NGOs and FBOs were selected for the range of scale, religious affiliations, and the variety of social, political and environmental issues they addressed. They also included large scale international organizations like ADRA, and local projects like Hope Home, a small house for disabled children. Many of the organizations focused on the challenges facing minority people (called Hill-Tribes) in the areas of education, sexual exploitation, health care, and land rights. Students were able to see first-hand not only some of the central challenges in the region, but how organizations have stepped up to address them, and how faith-based organizations work to integrate mission into their work.  The residency was such an overall success that another residency in Thailand on religion and development is in the works for the next residency cohort.