Make Changes to Existing Equipment Records
Equipment relocation or custodian change must be reported to Property Management in a timely manner in order to comply with Federal regulations on property movement (the act of custodian change and/or relocation to another room, building, or off-campus facility, and the title remains with Boston University).
When a major move is planned (e.g., the entire department), the department should contact Property Management for assistance prior to the move. PM will inventory all equipment to guard against loss during the transition.
Updates can be done using the Movable Capital Equipment Management Form. Moveable Capital Equipment Management Form
Complete and email or mail the form to Property Management and list the following information:
BU-Tag Number
Manufacturer
Model & Serial Numbers
Brief description of the item
Old & New Building and Room Numbers (if applicable)
Old & New Custodian (if applicable)
The top section of the form is used to record equipment details, including BU tag number, product description, serial number, and location.

In the lower-left corner of the form, you will find Status codes to populate the Status field.
The lower right side of the form collects information on the responsible cost center and custodian and authorization signatures.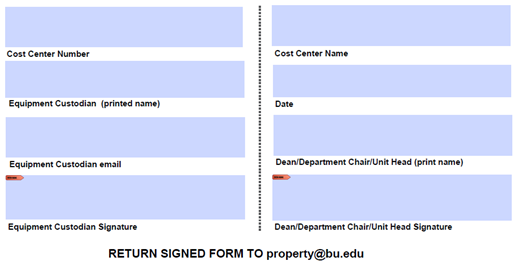 Only the equipment custodian signature is require to update the asset record.
Two signatures are required to officially dispose of a capital asset: the equipment custodian and the Dean/Department Chair/Unit head responsible for the cost center.
More information on setting up a BU digital signature here: (LINK TO DIGI ISTR Page)
Once signed, the form can be returned to property@bu.edu