WBUR feature: The Huntington revisits Boston's busing and segregation woes through the powerful 'Common Ground Revisited'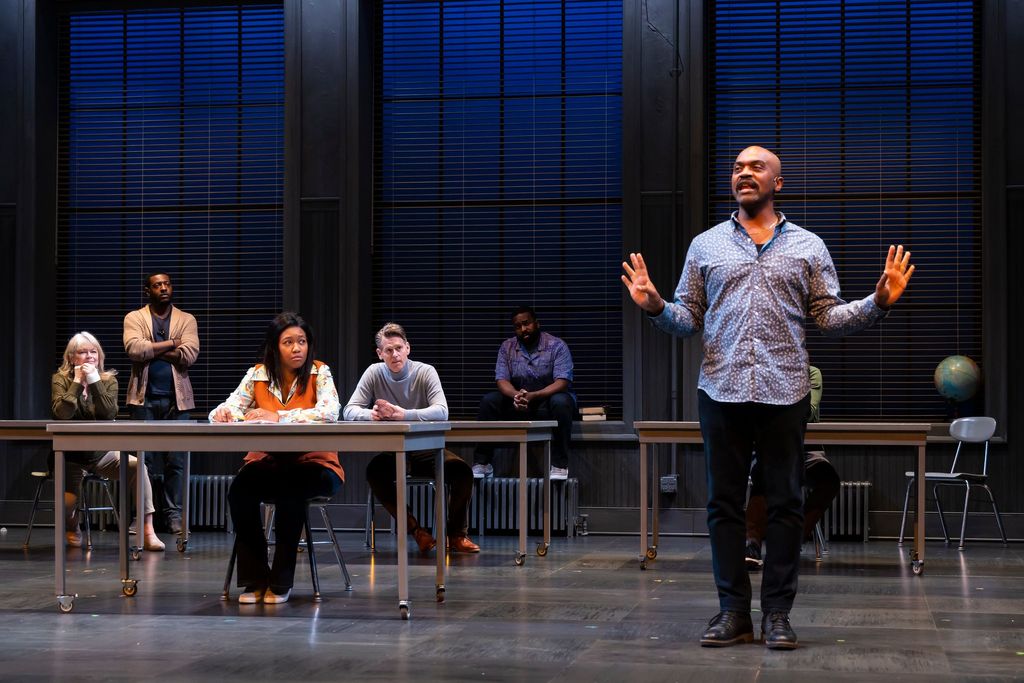 This article was first published in WBUR on June 14, 2022. By Jacquinn Sinclair | Photo courtesy T Charles Erickson
Excerpt
Breathing new life into an award-winning, classic tale can prove tricky. But celebrated local playwright Kirsten Greenidge's approach to revisiting the real families and the turbulent tone of Boston in the 1960s and '70s detailed in J. Anthony Lukas' 1986 "Common Ground: A Turbulent Decade in the Lives of Three American Families" is provocative and powerful. The Huntington Theatre Company's world premiere of "Common Ground Revisited," conceived by Obie-Award winners Greenidge and Melia Bensussen, delves into Lukas' Pulitzer Prize-winning narrative through perspectives from a present-day school. (The production runs through July 3 at the Calderwood Pavilion's Wimberly Theatre.)
In a gray-walled classroom with an American flag, students dissect Lukas' book that centers on the lives of the Divers, white professionals who, for a while, live in the South End; the Twymons, a Black family living in a non-gentrified part of the South End; and the Irish working-class McGoffs in Charlestown. The production boasts an exemplary ensemble that includes such talented locals as Marianna Bassham, Maurice Emmanuel Parent, Karen MacDonald and Elle Borders. The actors helped develop the work through workshops and readings and by offering their own stories, some of which made it into the script.
The assemblage of thespians sheds light on the nation's racial climate through dialogue about the civil rights movement, the Kennedys and Martin Luther King Jr.'s murder, augmented by powerful imagery. There were some biting moments where mom, Rachel Tymon (Shannon Lamb), tries to instill the importance of education into her daughter Cassandra (Borders), who is struggling with the constant taunting at Charlestown High, and when Alice McGoff (Amanda Collins) learns that her daughter Lisa (Bassham) has decided to stop protesting desegregation and instead wants to unite students at her school.
---
About Greenidge
At BU, Kirsten Greenidge teaches Ensemble I: Introduction to Playwriting with first years, Adaptation for sophomores, and Playwriting Colloquium with seniors. She is the recipient of a Village Voice Obie Award for her play MILK LIKE SUGAR, which was commissioned by La Jolla Playhouse and Theatre Masters,  and co-produced by La Jolla Playhouse, Playwrights Horizons, and WP Theatre. MILK LIKE SUGAR has also received a Lucille Lortel nomination, an AUDELCO nomination, and an Independent Reviewers of New England (IRNE) Award.  Other plays include THE LUCK OF THE IRISH, originally produced by the Huntington Theatre Company; BALTIMORE, which is the product of a Big 10 Consortium Commission, a program created to address the lack of roles for female BFA candidates; ZENITH, most recently produced by San Francisco Playhouse's Sandbox Series; BUD NOT BUDDY with music by Terence Blanchard (Kennedy Center; Metro Stage); BOSSA NOVA (Yale Rep); SPLENDOR (Company One Theatre Company); and SANS-CULOTTES IN THE PROMISED LAND (Humana Festival/Actors Theatre of Louisville). Learn more about Kirsten Greenidge and playwriting at BU.