Student feature: 8 Questions with Gabrielle Barkidjija
Q&A with Gabrielle Barkidjija (BUTI'13,'14, CFA'22)
What has your experience at BU and the Opera Institute been like?
I've loved this past year and the change at BU and the Opera Institute! I feel so fortunate to be in a program that adapted to COVID-19 and allowed us, young artists, to continue performing and producing opera projects even during a global pandemic. Using PPE and creativity, the Opera Institute produced three major projects over the course of the year: individual one-person staged opera projects, a masked and distanced opera (Jonathan Dove's "Mansfield Park"), and a robust opera scenes program. More so, the environment that the Opera Institute has cultivated is one of collaboration and self-expression, which to me are two crucial components that allow young artists like myself to thrive and adequately prepare ourselves for our upcoming careers in the performing arts.
What was your first introduction to opera? When did you know you were passionate about it?
My first introduction to opera was in the 8th grade! My school took a field trip to see Pagliacci at the Lyric Opera of Chicago. My class was dreading this field trip, and I remember everyone complaining that the teachers and chaperones were going to have eagle eyes for cellphone use during the performance. I remember acting like I was disinterested, but I was struck by the amazing singers, the production, and the drama of it all. Fast forward many years later – I end up (on a fluke) going to a summer voice pre-college program at Carnegie Mellon University and was told by the faculty there that I was good enough at singing to pursue a degree in vocal performance. About a year later, I was applying for undergraduate vocal performance programs and visited the University of Michigan to take some prospective voice lessons. While I was there, my mom and I decided to go to their production of the Barber of Seville. I remember being fascinated by the character Rosina – by her strength of will, her cunning yet sweet personality, and just the sheer vocal agility required to sing that role. After watching the opera, all I wanted to do was sing that role, and it's still one of my dream roles today!
Tell us more about your role in The Infinite Energy of Ada Lovelace. Are there any particular themes of the piece you connect with? Music compositions you're struck by?
I am portraying Ada Lovelace! Ada is one of the most fascinating characters I've had the opportunity to step into to date. This is the first time I've portrayed a historical figure – Ada Lovelace was a mathematician and was best known for her work on Charles Babbage's proposed mechanical general-purpose computer, the Analytical Engine, and she is often regarded as the first computer programmer. Ada Lovelace was beyond strong-willed, brilliant, and spiritually perceived the world through calculus, equations, and numbers.
What strikes me most about Ada was her sheer will-power – she faced so much adversity throughout her life (having a complicated upbringing, being constantly ill, and fighting societal norms) and passed away in her mid-thirties, yet still accomplished so much. The opera highlights Ada's constant struggle between pursuing her dreams and her being a wife and mother. This struggle that women in particular face has not disappeared over the last 200 years. I deeply connect with Ada's story, (and hope that audiences will also connect with her story) as her tale is still very relevant today.
One of my favorite musical moments in the opera is William's aria, where he likens Ada to a hummingbird, beautiful and always speeding along. It's a very simple aria, but its stately and calm composition greatly differs from the energetic, pulsating rhythms of the rest of the opera. It allows the audience a moment of repose to think about Ada and how she is perceived by both William and the rest of society.
If you had to sum up The Infinite Energy of Ada Lovelace in one word, what would it be? Why?
Tenacity. Tenacity runs rampant in all the main characters in this opera. Ada's tenacity is shown in her love of mathematics and wanting to make a difference in the world. William's tenacity is shown in his care for Ada. Charles Babbage's tenacity is shown in his love for his inventions (and for Ada). Harriet Beecher Stowe's tenacity is shown in her desire to reveal the truth.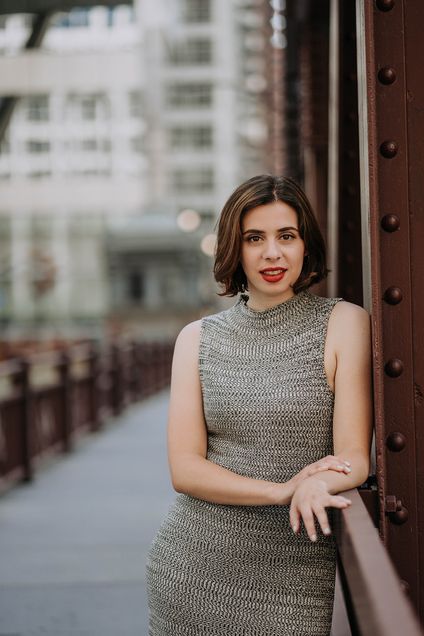 What has rehearsing in BU's Joan & Edgar Booth Theatre been like since the university's reopening?
It's been wonderful! The Booth Theatre's structure allows for a very collaborative, immersive performance experience – as a performer in that space, you really feel like you're on the same plane as the audience and that everyone in the theatre is a part of the storytelling.
What does performing on stage in front of an audience again mean to you?
Performing on stage in front of an audience again means the world to me – I haven't performed a live opera for almost two years now, and getting to share this story, especially a story with which I'm so connected, means so much to me. Having performed mostly digital opera projects this past year, I have not gotten to see firsthand the effects that my performances have had on audiences. Sharing stories using this medium is the way that I best connect with people and performing in front of a live audience again will allow me to continue to connect with and relate to as many people as possible.
What aspects of Kamala Sankaram's work resonate with you?
I love the way that Kamala Sankaram uses meter changes to tell Ada's story. There's an energy to her composition that propels the story forward, which perfectly encapsulates Ada's mind, her infinite energy. Ada's mind is consistently running, and she's constantly coming up with [mathematical] equations in her head and thinking about how she can affect change in the world. Sankaram's harmonic language and pulsating repetition allow Ada's intensity and her story to emerge from the page and affect the listener.
When do you feel the most inspired?
I feel the most inspired by the people with whom I'm on stage (and off stage!). I love the collaboration involved in putting on an opera production and am always so inspired by other peoples' opinions and thoughts on the storytelling of an opera. It takes a village to bring an opera to life, and that collaborative process is something that I love and something that inspires me to continue down this career path.