The 2023 Academy Awards Are Sunday Night: Here's What to Watch For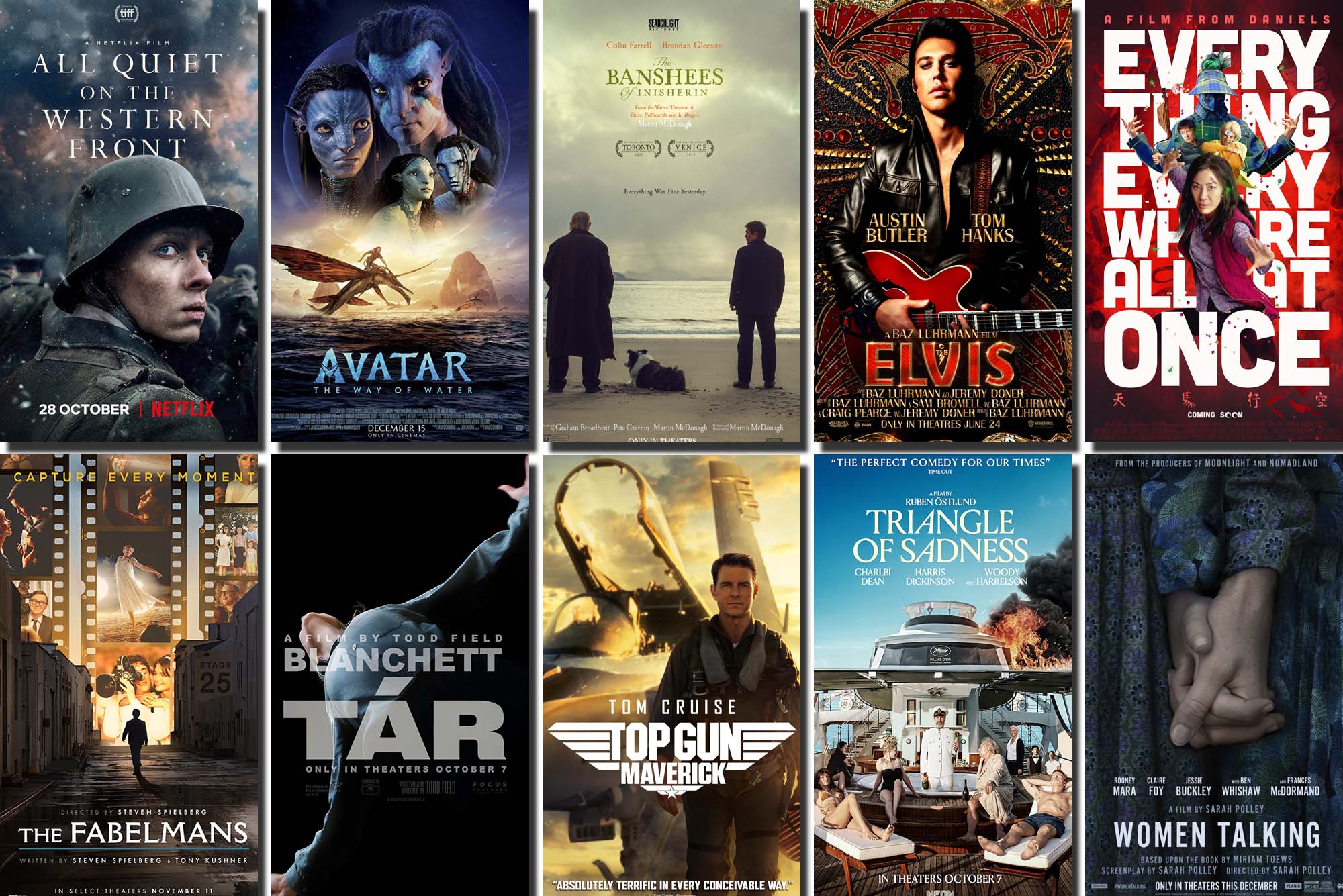 CFA Faculty
The 2023 Academy Awards Are Sunday Night: Here's What to Watch For
CFA Dean Harvey Young on who's likely to take home Oscars March 12
This Q&A was first published in BU Today on March 8, 2023. By John O'Rourke
Excerpt
Last year was a rollercoaster for Hollywood. Overall sales at the US box office were down 30 percent from 2021, as studios struggled to woo audiences back into movie theaters post-pandemic. Many independent, prestige films released in 2022 struggled to find an audience. Women Talking and Triangle of Sadness, both critically lauded, have pulled in a paltry $4.9 million and $4.5 million respectively in North America. Even the newest movie from veteran filmmaker Steven Spielberg (Hon.'09), The Fabelmans, has earned just over $35 million to date, less than the $40 million it reportedly cost to make.
But there was some good news for the film industry. Blockbusters and franchises performed strongly: Top Gun: Maverick raked in $719 million at the domestic box office, becoming the highest grossing film in the US in 2022 and Avatar: The Way of Water has earned more than $2 billion worldwide. And the year saw some star turns from both veteran actors (Jamie Lee Curtis in Everything, Everywhere, All at Once and Bill Nighy in Living) and new faces (Austin Butler in Elvis).
Those performances and more will be honored this Sunday, March 12, when the film industry gathers at the Dolby Theatre in Los Angeles for the annual Academy Awards ceremony. This year marks the first time Asian actors have been nominated in multiple categories: Michelle Yeoh for best actress, Ke Huy Quan for best supporting actor, and Stephanie Hsu and BU alum Hong Chau (COM'01) for best supporting actress. This year also marks the first time an actor has been nominated for a performance in a Marvel Cinematic Universe film (Angela Bassett, Black Panther: Wakanda Forever) and the first time in 88 years that all of the best actor nominees are first-timers.
It's hard to imagine any surprises topping last year, when actor Will Smith slapped comedian host Chris Rock on stage before a stunned audience after Rock made a tasteless joke about Smith's wife. For a preview of what to look for and who the likely winners will be, BU Today spoke with Harvey Young, cultural historian and dean of the College of Fine Arts.
BU Today:
Perhaps the first question to ask is: Are people going to tune in to watch this year's ceremony? Ratings last year were the second worst ever.
Young: If Chris Rock were host, more people might watch the broadcast. We'd all want to hear his first words. (This year's host is comedian Jimmy Kimmel.) I anticipate there will be a slight uptick in viewership. Last year reminded us that anything can happen during a live event.
BU Today:
What surprised you most about this year's nominees?
Young: I expected to see The Woman King in the best picture mix. Otherwise, I am impressed by the range of films nominated for best picture, including blockbusters, international, and independent movies. Avatar: The Way of Water and Tár are very different films.
BU Today:
Bowing to criticism last year, when awards in eight categories—including short films, animated short films, film editing, and production design—were handed out ahead of the live broadcast, this year all of the awards will be given out during the televised ceremony. What are your thoughts about that?
Young: I love short films! The nominees in those areas—live action short, Animated short, documentary short—are passionate filmmakers. They work without the expectation of fame or fortune. Their surprise and thrill at winning are wonderful to witness.
BU Today:
Before we get to your predictions of who will win in the top categories, talk about who, in your opinion, got snubbed this year.
Young: Black women. Several amazing, talented women who merited nominations did not get them. I was surprised The Woman King or its director Gina Price-Blythewood weren't nominated. Lashana Lynch and Thesu Mbedu should have been considered for supporting actress. Danielle Deadwyler, in Till, should have gotten a best actress nod.
BU Today:
Ok, let's turn to the actors who are nominated. Starting with best actor, who will win and who should win?
Young: Austin Butler will win best actor for Elvis. He was terrific as young Elvis, but more caricature-like during the Vegas years. Colin Farrell should win for The Banshees of Inisherin.
BU Today:
In the best actress category, the most likely contest seems to be between Cate Blanchett for her performance in Tár and Michelle Yeoh for her work in Everything, Everywhere, All at Once. Who do you predict will win?
Young: Cate Blanchett drives Tár a bit less than Andrea Riseborough in To Leslie. Although different, both are masterclasses in character interpretation. That said, Michelle Yeoh will win. Everything's metaverse is a unique showcase of her many talents.
BU Today:
In the best supporting actor category, there seems to be a consensus that Ke Huy Quan has the race locked up for his performance as Yeoh's husband in Everything. Thoughts?
Young: Yup. Yes. Definitely. He will and should win. Bryan Tyree Henry (nominated for Causeway)  is good in every film. Hopefully, he will win golden statues in the future.
BU Today:
And in the best supporting actress contest, who will or should win?
Young: You can't root against a Terrier. Hong Chau (nominated for The Whale) was also brilliant in The Menu (alongside another Terrier: Reed Birney). Most people expect Angela Bassett to win. A savvy gambler might bet on Jamie Lee Curtis for a longshot, surprise win.
read more of the Q&A in BU Today
The 95th Academy Awards will be held on Sunday, March 12 at the Dolby Theatre in Los Angeles. The ceremony will be broadcast on ABC starting at 8 pm ET. Find a complete list of this year's Oscars nominations here.