Michelle Hurd Talks Star Trek: Picard, Studying at BU, and Empowering Opportunities for Diverse Artists
The actor shares her passion for using her power as an artist to lift up others on and off the set
CFA Alumni
Michelle Hurd Talks Star Trek: Picard, Studying at BU, and Empowering Opportunities for Diverse Artists
Actor and activist Michelle Hurd (CFA'88), who currently stars in Paramount+'s Star Trek: Picard, was a recipient of the 2022 BU College of Fine Arts Distinguished Alumni Awards.
As the most prestigious awards conferred by CFA since 1986, Hurd was celebrated for her outstanding achievements in her acting career and service to the arts and to communities.
During her most recent visit to campus, Hurd spoke with CFA about her experience as a theatre student at BU, and how the techniques and rehearsal processes she learned in school live with her every time she takes on an acting role.
---

Art touches us and broadens our perspective. Be bold, be brave, have fun, and do the work. Acting is a real vocation. Be proud of it.

---
In addition to her extensive television career, spanning three decades, Hurd is SAG-AFTRA's National Vice President of Los Angeles and Chair of the SAG-AFTRA National Sexual Harassment Prevention Committee. For her commitment to union work, Hurd received the SAG-AFTRA President's Award for Union Service in 2021.
"I realized that, as an actor, we actually have a little power. We can actually make change. I'm super excited and more focused on helping the many and not just the few. I'm already on the contact sheet. I'm already going to be taken care of. I'm more concerned about our guests, our recurring, our background artists, and anybody who enters the set. I want them to feel safe and empowered," says Hurd, who's passionate about advocating to have people of color represented on screen and behind the camera.
"One of my friends, Yvette Nicole Brown, told me one time she went to set, to hair and makeup, and the person who was doing her makeup didn't have her base color and sent her to special effects. Can you imagine? One of the actresses on Star Trek: Picard who plays young Guinan, her name is Ito Aghayere, came to set one day and she walked over to me and she says, 'Michelle, I have to say thank you because I came to set today, as I come to every studio, with my hair and makeup, all my products in my bag. I walked into the hair makeup trailer and I saw a woman of color and I cried because I realized for the first time I just have to do my job.'"
Hurd is also working with a group to produce a pamphlet with the Costume Design Guild of best fitting room practices to ensure actors are safe when they go into fitting rooms, empowering both costume designers and actors.
"I encourage every actor, every actor, to think bigger and broader and understand that they can do all this kind of activism work. If they've got an idea that they think they could make a safer place, come join the union, make a booklet, and we will produce it," says Hurd.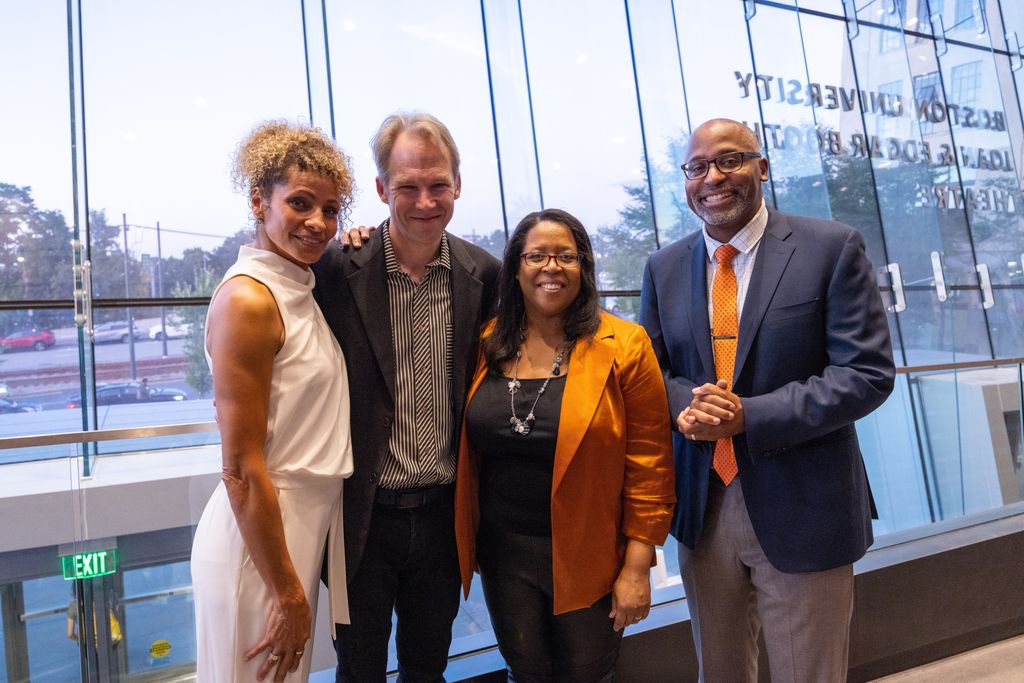 Highlights of the 2022 CFA Distinguished Alumni Awards
On Thursday, September 29, 2022, the BU College of Fine Arts community – students, alumni, friends, faculty, and staff – came together to celebrate and honor three inspiring alums with the 2022 CFA Distinguished Alumni Awards. Congratulations to flutist and composer Valerie Coleman (CFA'95, BUTI'89), actor and activist Michelle Hurd (CFA'88), and visual artist and Guggenheim Fellow Alexi Worth (CFA'93).