Graphic Design Graduate Part of Finalist Team at Innovate@BU's New Venture Competition
CFA Alumni
Graphic Design Graduate Part of Finalist Team at Innovate@BU's New Venture Competition
The finalists of BU's largest pitch competition were celebrated at Innovators' Night this past Spring 2022 term.
An original BU Today article on the competition was published on May 2, 2023. By Sam Thomas (COM'24)
---
Innovate@BU's annual New Venture Competition welcomes all BU students and alums from the most recent graduating class to take their idea to the next level. As BU's largest annual competition, Innovate@BU awards $72,000 in prizes to early-stage BU entrepreneurs, helping them turn their ideas into tangible products.
At the end of April 2023, an estimated 300 attendees headed to BU's Metcalf Trustee Ballroom to see the dozen finalist teams, all in their early stages of entrepreneurial ventures, pitching their ideas for how to address largely unmet needs within the community.
Students and young alums who entered the New Venture Competition chose one of two tracks in which to compete: the General Track (for-profit ventures in any sector) or the Social Impact Track (ventures addressing large-scale economic, societal, or environmental issues and/or focusing on underserved communities).
The audience also got involved at Innovators' Night, voting on the Audience Choice Awards for each track. The Audience Choice winners received $500 each.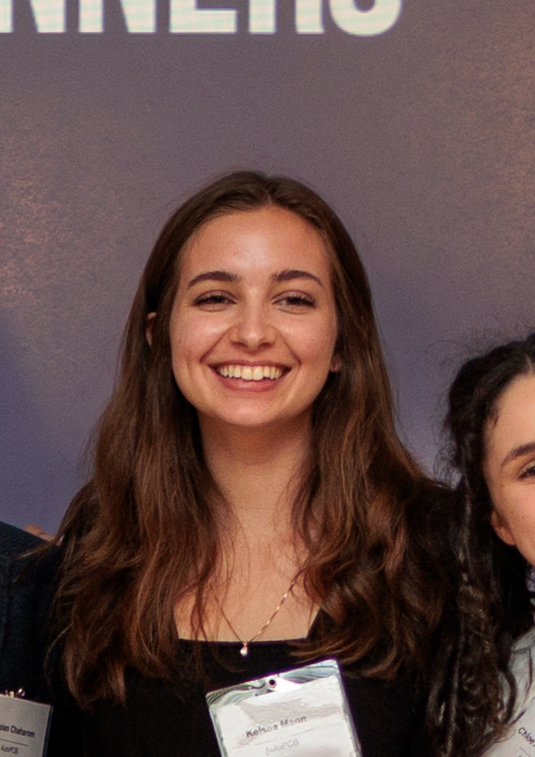 #ProudtoBU
In the General Track, AutoPCB, a circuit-design platform that automates and streamlines the creation of circuits, won the Audience Choice vote. We're proud to see that School of Visual Arts graphic design graduate, Kelsea Mann (CFA'23), was part of this winning team!
Kelsea explains that AutoPCB can be compared to web content management systems like Wix or WordPress but for circuit boards. "Instead of doing repetitive manual processes, the user can simply drag and drop components into the interface, and the app takes care of the rest," says Kelsea.
The AutoPCB team was formed by random selection through the BU Spark! program, an innovation and experiential learning lab for computing, data science, and engineering projects. The idea for AutoPCB came from team leader Caspian Chaharom (CAS'23), who is in the BU Rocket Propulsion Club. He found he spent more time designing circuits than dedicating time to his passion for working with rockets. Though the team members come from different backgrounds, Kelsea shares how "the team has become very close and our favorite part of the project is working with each other."
Kelsea is the UI/UX designer on the team, working on any marketing initiatives. The recent grad plans to be in the BUild lab this summer, participating in Innovate@BU's Summer Accelerator, a 10-week intensive program that guides BU students and Class of 2023 alums as they build an early-stage venture… in this case, AutoPCB. The Summer Accelerator program provides a stipend of up to $10,000 so that participants can work on their venture full-time while accessing mentorship, entrepreneurship education, and more. Kelsea will also continue working for the software company Red Hat as an interaction designer.
read bu today's coverage of the new venture competition
check out kelsea's artwork on instagram